Great gun divide: School shooting survivors vent fury at Fox News analyst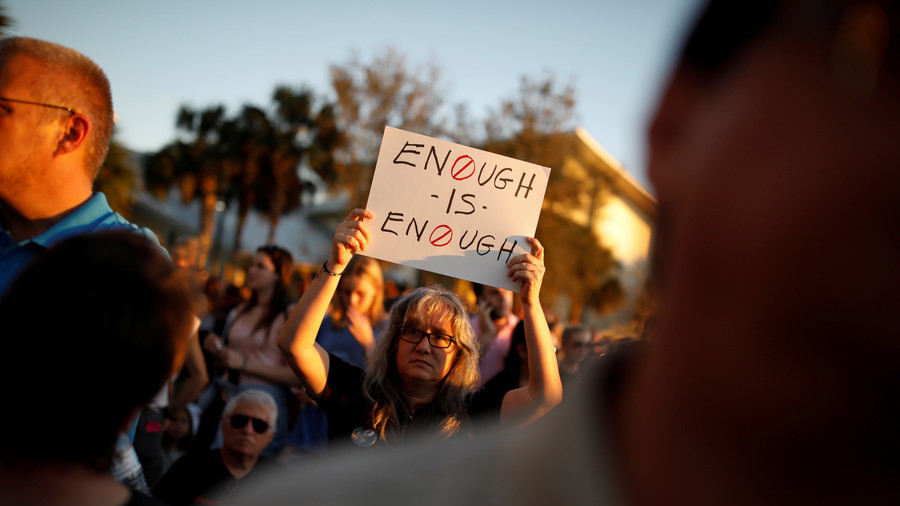 Survivors of this week's Florida High School shooting have heavily criticized Fox News contributor Tomi Lahren for her comments on gun control in the wake of the attack which killed 17 people.
The outspoken conservative commentator took to Twitter after the mass shooting to target 'the Left' for "pushing their anti-gun agenda," declaring: "This isn't about a gun it's about another lunatic."
Nikolas Cruz, 19, is being held on 17 counts of premeditated murder following a shooting spree at his former school, Marjory Stoneman Douglas High in Parkland, Florida on Wednesday. A dozen more people were injured in the incident, some seriously.
READ MORE: Florida school shooting marks the 18th in less than 7 weeks (MAP)
Students from the school hit back at Lahren's tweet, with one, Carly Novell, responding: "I was hiding in a closet for 2 hours. It was about guns. You weren't there, you don't know how it felt."
Novell later told CNN that she believed Lahren was being opportunistic: "Obviously it was to promote her career or social media or whatever. She decided to say something controversial without thinking, something stupid." Other tweets directed at Lahren by student survivors had the same sentiment.
A later tweet by Lahren, where she boldly stated "just because you're offended doesn't mean you're right," was criticised by another of the school's students.
A number of Marjory Stoneman Douglas High students have been vocal in demanding gun control following the mass shooting, taking part in high profile TV interviews and castigating President Donald Trump on Twitter. However, the US remains divided over the issue as the heated debate over gun control and the Second Amendment boils to the surface once again.
Another student survivor Brandon Minoff told MSNBC that he didn't think gun control would necessarily solve the problem: "Gunwise I don't think there is any way to prevent it, you outlaw guns it just creates higher demand for it. I think it has to do with mental health.
"If he's been expelled three different times from three different schools I think he should be helped out."
Currently there is no law that requires a background check on the mental health of a person before purchasing a firearm. Just last year the Trump administration rolled back an Obama-era regulation that would have made it harder for people with mental illnesses to purchase a gun.
The regulation would have obliged the Social Security Administration to disclose information about individuals receiving disability benefits due to mental illness to the national background check database – potentially adding 75,000 names to that database.
Following the shooting, Florida Governor Rick Scott said he wants to make sure people with mental issues "do not touch a gun.""If someone is mentally ill, they should not have access to a gun," he said.
The attack marks the eighth school shooting to result in injury or death so far this year, and the 18th incident involving gunfire in schools.
You can share this story on social media: