Space oddity: Dummy rides Elon Musk's Tesla to Mars (VIDEO)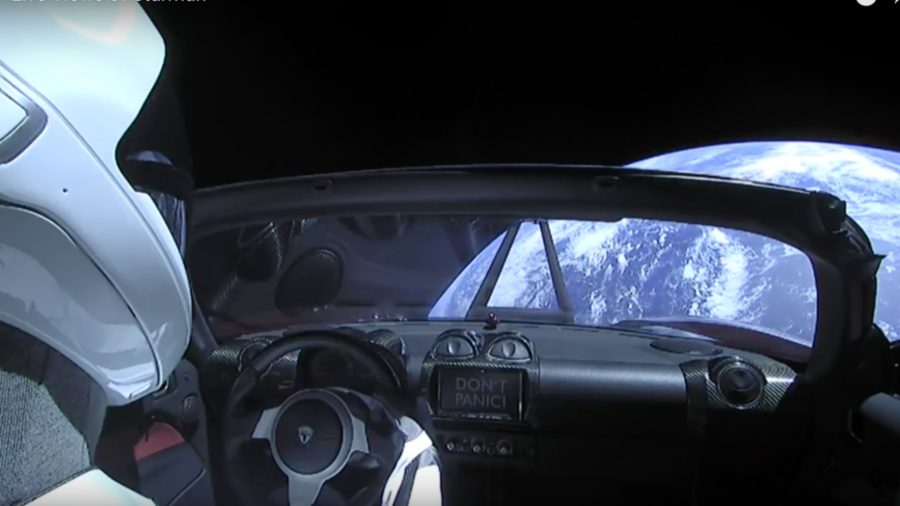 Elon Musk has sent his Tesla Roadster into the deep unknown aboard SpaceX's Falcon Heavy rocket, which successfully launched on its first-ever test flight.
Carrying the SpaceX founder's personal Tesla, Falcon Heavy took flight on Tuesday around 3:45pm EST from Kennedy Space Center in Florida. Cameras attached to the electric car showed it heading deeper into space. The car, blaring David Bowie's 'Space Oddity' on an endless loop, is being piloted by a dummy dressed in a spacesuit, dubbed 'Starman.'
The Roadster, which is "Made on Earth by Humans," is heading in the direction of Mars at a speed of seven miles a second after separating from the rocket.
Mere minutes after successfully launching the Falcon Heavy rocket SpaceX began streaming live footage from the Tesla Roadster it had released into space. 'Don't Panic,' the dashboard of the car reads, as 'Starman' stares back at Earth.
Two of the rocket's booster stages have meanwhile returned to Earth. The third booster however crash landed and was destroyed near SpaceX's autonomous drone-ship in the Atlantic Ocean. The center core didn't have enough propellant to re-ignite all nine of its Merlin engines during the final landing burn, Musk said during a press conference.
Musk's space vehicle won't actually touch down on Mars but will instead indefinitely float across the abyss, until one day it may perhaps be discovered by alien life.
SpaceX heavy rocket takes Tesla car into orbit in test blast-off (VIDEO)
Think your friends would be interested? Share this story!
You can share this story on social media: