FBI deputy director McCabe steps down - report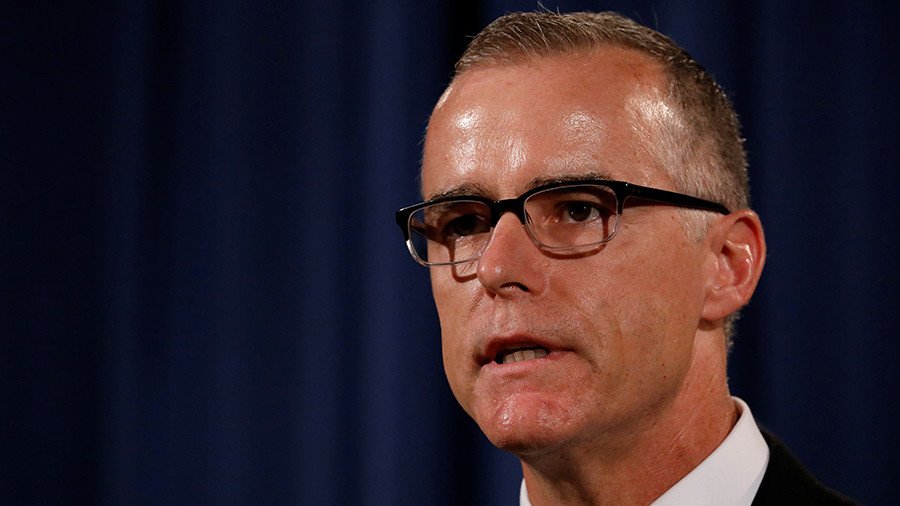 Deputy FBI director Andrew McCabe has stepped down effective immediately, NBC News reported citing sources inside the Bureau. He will be on leave until March, when he will officially retire from federal service.
There was no official announcement about McCabe's retirement, only reports via NBC's legal and White House correspondents.
BREAKING: Andrew McCabe, FBI Deputy Director & a frequent Trump target, stepping down.

— Peter Alexander (@PeterAlexander) January 29, 2018
McCabe announced his intent to retire in December, shortly after a closed-doors testimony before the House Intelligence Committee. The announcement said he would be retiring in March, when he became eligible for pension benefits, prompting President Donald Trump to chide him on Twitter.
FBI Deputy Director Andrew McCabe is racing the clock to retire with full benefits. 90 days to go?!!!

— Donald J. Trump (@realDonaldTrump) December 23, 2017
Trump "was not part of this decision-making process," White House press secretary Sarah Huckabee Sanders told reporters on Monday, referring any questions about McCabe's departure to the FBI.
The deputy director, who headed the FBI between the firing of James Comey in May 2017 and the appointment of new director Christopher Wray in August, had been under fire by the Trump administration over his reported ties to Clinton ally and former Virginia governor, Terry McAuliffe. McCabe's wife Jill received substantial funds from McAuliffe's PAC for her 2015 state Senate run, which ended up being unsuccessful.
Emails released by the FBI last November showed McCabe referring to the probe into Hillary Clinton's use of a private email server as "special." More recently, he was referenced in the text messages between FBI employees Peter Strzok and Lisa Page, who talked about a meeting at "Andy's office" in light of discussions about the "insurance policy" in case Trump gets elected.
Another subject of controversy in Washington has been the 4-page memo by House Intelligence Committee chairman Devin Nunes (R-California), which reportedly accuses the FBI of abusing FISA surveillance warrants to spy on the Trump campaign. Director Wray read the memo on Sunday, according to Fox News.
.@JuliaEAinsley: Timing of McCabe's departure is curious, because this is the day that the House and Senate are voting to release information about FISA requests.

— Andrea Mitchell (@mitchellreports) January 29, 2018
Following the 2016 presidential election, Democrats called for the resignations of both Comey and McCabe, after the Clinton campaign said the FBI letters about the email investigation shortly before the election "helped depress our turnout and also drove away some of our critical support " and "helped to bolster Trump's turnout."
You can share this story on social media: