Leaks of top FBI official's secret House testimony on Trump fuel dueling accusations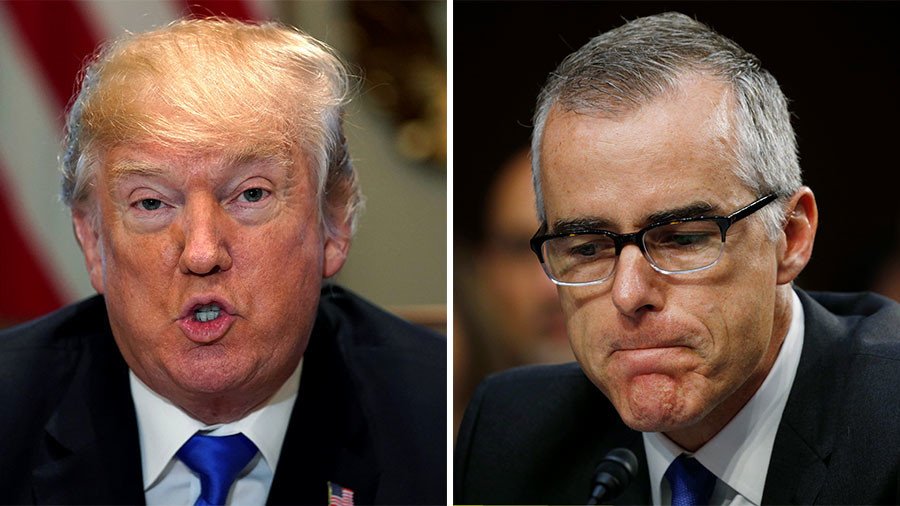 Multiple leak-based reports on FBI Deputy Director Andrew McCabe's closed-door testimony to the House intel panel regarding President Donald Trump and Russia will serve as cannon fodder for both Republicans and Democrats.
As Democrats search for a smoking gun leading to an obstruction of justice charge against Trump in connection with alleged Russian collusion and meddling in the 2016 presidential election, Republicans are seeking to ferment more distrust and suspicion, or even prove that the entire investigation is illegitimate.
GOP targets McCabe's inconsistencies, Clinton email probe
Thursday's secretive House Intelligence Committee interview of McCabe apparently served both of those partisan interests, if multiple reports, citing anonymous sources are valid indicators.
The questioning of McCabe was chiefly led by Representative Trey Gowdy (R-South Carolina), but also included several other lawmakers, Fox News reported, citing "unnamed sources close to the investigation."
McCabe also fielded questions about the legitimacy of the so-called Trump dossier, a bundle of opposition research funded by the Hillary Clinton campaign, and produced by ex-British spy Christopher Steele, who has 'connections' with Russia. Some Republicans suspect it was used to obtain a FISA warrant and open an investigation into Trump's campaign.
The same unnamed sources told Fox News that McCabe recounted to the panel that the FBI worked hard to verify the contents of the Trump dossier and stood by it. However, when pressed to identify what in the dossier was specifically corroborated during the verification process by the FBI, the unnamed sources said McCabe only cited the fact that Trump campaign advisor Carter Page previously traveled to Moscow. Beyond this detail, McCabe could not say that the FBI had verified the allegations in the dossier regarding specific meetings Page allegedly held in Moscow prior to the 2016 presidential election, according to Fox News.
McCabe was reportedly also a "friendly witness" to Democratic lawmakers in the room who were present to question him, according to Fox News' unnamed sources.
McCabe was also grilled about the FBI's handling of the Clinton email investigation, with Republicans asking questions about internal emails which they believe showed that former FBI director James Comey mishandled the probe, according to multiple sources cited by CNN. Two unnamed Republicans told the news outlet following the questioning that McCabe's testimony did not change their belief that Clinton received favorable treatment from the FBI when it declined to pursue criminal charges over the handling of her private email server. The two sources declined to elaborate on what exactly McCabe had said, citing the confidential closed-door testimony.
Democrats concentrate on Trump, obstruction of justice
If Fox News' sources in the report of Thursday's private questioning seemed to help solidify the Republican narrative, CNN's sources, on the other hand, seem to push the Democratic point of view in the inquiry that Trump is guilty of obstructing justice.
McCabe was also reportedly questioned about his interactions with his ex-boss, former FBI Director James Comey. McCabe apparently told investigators that Comey notified him that Trump asked Comey for loyalty during a dinner in January at the White House following Trump's election, according to three unnamed sources with knowledge of the matter, CNN reported.
Trump allegedly petitioned Comey for his loyalty in relation to the investigation into the alleged collusion between Trump and Russia which Comey had been leading at the time.
READ MORE: Putin 'wanted Franken out of Senate,' anti-Trump 'resistance' claims
The president has strongly denied the former FBI director's account of what was said during the dinner.
Comey had previously testified that he briefed some of his senior colleagues soon after Trump made the alleged approach, but no one had been named before Thursday's reports, CNN said.
McCabe appeared for more than 14 hours of testimony behind closed doors in two sessions in the past week. During this time, members of the House Intelligence, Oversight and Judiciary Committees have all had their chance to question the deputy director of the FBI.
You can share this story on social media: