Putin 'wanted Franken out of Senate,' anti-Trump 'resistance' claims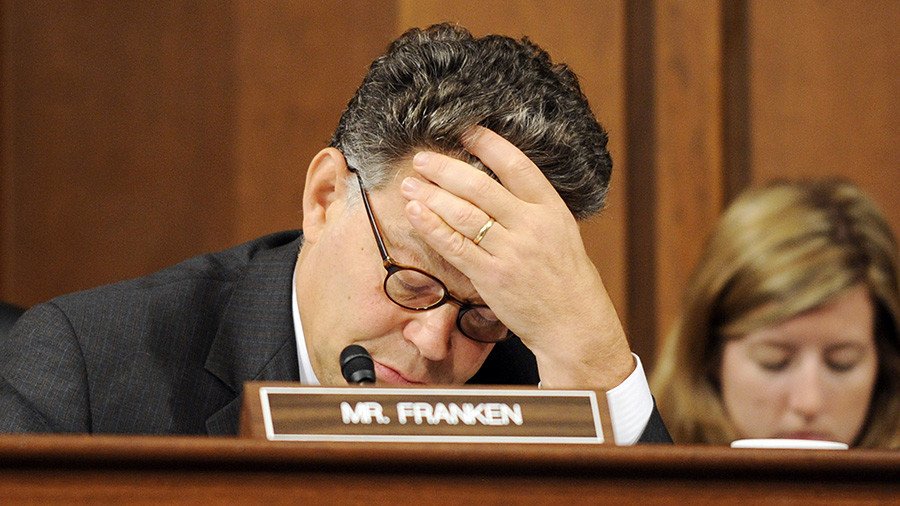 Liberals who pushed Senator Al Franken (D-Minnesota) to resign over groping and forced kissing accusations were actually unsuspecting dupes carrying out Moscow's agenda, according to the latest Russiagate conspiracy theory.
When it comes to politics, the most outlandish stories with baseless claims typically swirl within partisan circles. That is not the case for the die-hard believers crusading against Russia for allegedly teaming up with Donald Trump to defeat their preferred 2016 presidential nominee.
Richard Painter, a Never Trump Republican who was the chief White House ethics lawyer for President George W. Bush, made an appeal for undoing Franken's recent resignation in a tweet on Tuesday. The sentiment is reportedly shared by many regretful Democrats in private. Painter, however, went further to accuse former Trump adviser Roger Stone and the Fox News Channel of planning Franken's downfall – obviously, without offering any evidence.
The tweet was picked up by @Counterchekist, an anonymous Twitter user identifying as GOP, who escalated the conspiracy theorizing to include the Russian government as having a part in the scandal. A liberal fellow-traveler in Russiagate rumor-peddling, Eric Garland, who bills himself as a "strategic intelligence analyst" and who once posited a"game theory" connecting Hurricane Katrina to alleged Russian hacking, then retweeted the whole package. So did over 2,000 others.
The Intercept founding editor Glenn Greenwald criticized the series of tweets as representing "a cultivated pathology that isn't going away, or even getting better, any time soon."
Others on Twitter reacted by describing the claims as "effects [of] the second Red Scare," part of the "Russia psyop," or simply "insanity."
The "pathology" described by Greenwald is seen as a threat particularly to those on the political left who view the Democratic Party as too centrist or corporatist. Dr. Jill Stein, the 2016 presidential nominee of the Green Party, is now the target of the Senate Intelligence Committee's probe into alleged Russian meddling. Her guilt is appearing often on RT America and attending an RT gala in 2015, where she sat at a table shared by Russian President Vladimir Putin and Lt. Gen. Michael Flynn, who was indicted this year on charges of lying to the FBI about contacts he made with Russians during the Trump transition period.
Alternet senior writer and journalist Max Blumenthal told RT America's Ed Schultz on Tuesday that the Russiagate narrative and this latest micro-scandal produced from it are used to "suppress all opposition to the left of the Democratic Party."
The Center for American Progress (CAP), which runs the liberal Think Progress blog, has also pounced on Stein over simply being called to answer questions by the Senate intel panel. Think Progress reporter Casey Michel listed the mere fact that she took notes during WikiLeaks founder Julian Assange's address to the Green Party's national convention as evidence against Stein.
You can share this story on social media: