Female lieutenant governor to replace Al Franken in US Senate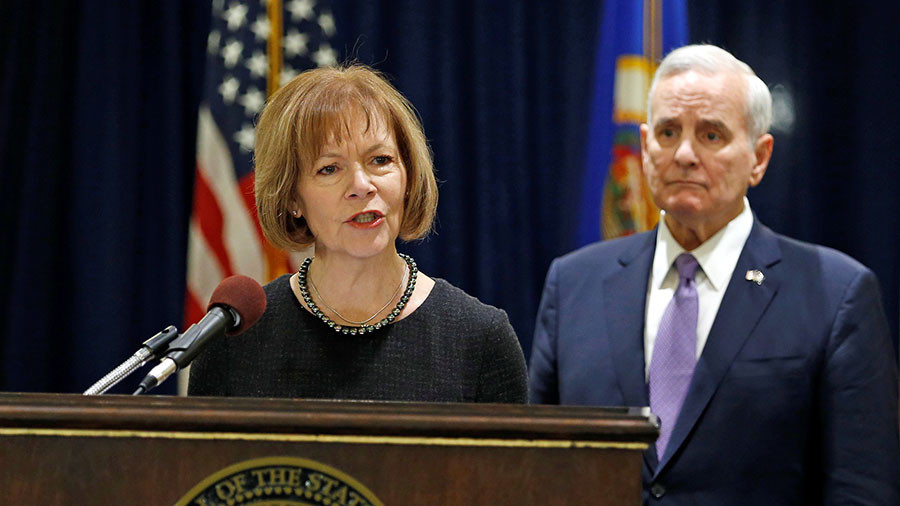 Lieutenant-governor Tina Smith will fill Minnesota's seat in the US Senate vacated by Senator Al Franken over accusations of sexual misconduct. She will face a special election next year.
Smith, 59, will serve until January 2019. She will have to run in a special election next November. If she wins that race, she would have to run again in 2020, when Franken would have faced re-election.
Governor Mark Dayton made the announcement on Wednesday. Smith was widely considered a favorite to win the 2018 gubernatorial election.
Dayton called Smith "a person of the highest integrity and ability" and commended her role in expanding paid parental leave, fighting against wage theft, battling the opioid crisis, and advocating for clean energy.
"I accept this appointment, and it will be my great honor to serve Minnesota as United States Senator," Smith said in a statement. "Though I never anticipated this moment, I am resolved to do everything I can to move Minnesota forward. I will be a fierce advocate in the United States Senate for economic opportunity and fairness for all Minnesotans."
Smith has also pushed for expanding rural broadband access and access to early childhood learning, CNBC reported. Smith has been Minnesota's lieutenant governor since 2015, and previously served as Dayton's chief of staff.
Franken became a Democratic senator in 2008, following a career as a television comedian. Over the past month, multiple women have accused him of sexual assault, including groping and forced kissing. Franken has apologized, but a number of Senate Democrats called on him to resign and opened an ethics investigation.
Last Thursday, Franken said he would resign"in the coming weeks," but did not set a date. On Wednesday, he said Smith will make an "excellent" senator in his place.
Franken's departure comes as allegations of sexual misconduct against powerful men emerge almost every day. The torrent of accusations began with claims against Hollywood mogul Harvey Weinstein in October.
Two members of the House of Representatives, Trent Franks (R-Arizona) and John Conyers (D-Michigan) have since stepped down, citing allegations of improper sexual conduct.
A number of other members of Congress have paid taxpayer-funded settlements over allegations of sexual harassment. The details of those allegations and settlements are secret.
A number of Democrats have called on President Donald Trump to resign, citing accusations of sexual assault and harassment by more than a dozen women. Trump has denied the allegations.