RT America's 'foreign agent' registration driven by error-riddled intel report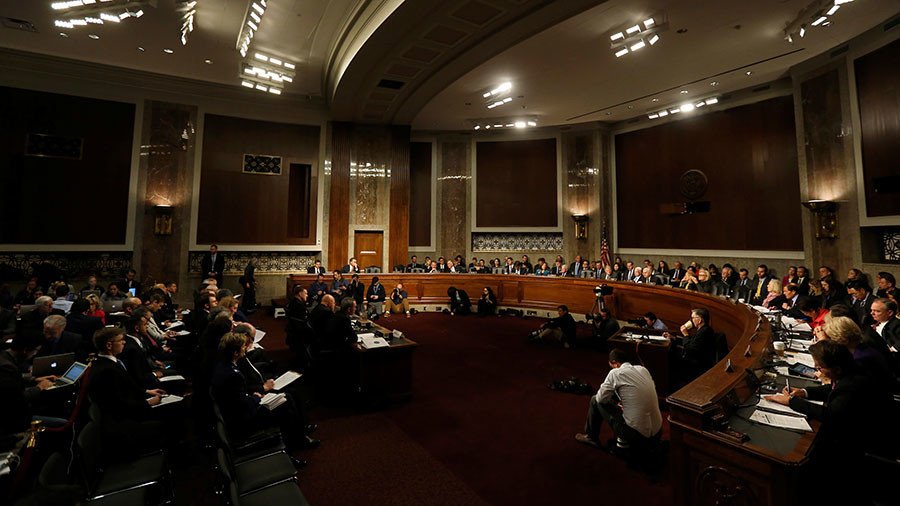 The US Department of Justice based its decision to demand RT America register as a foreign agent on the intelligence community's report accusing RT of influencing the 2016 election, a DOJ official said.
The report, issued by the Office of the Director of National Intelligence (ODNI) in January 2017, "was certainly relevant to our decision to examine them more recently," National Security Division Deputy Assistant Attorney General Adam Hickey told reporters on Thursday. He cited no other factors that contributed to the decision.
"Thank you DOJ for finally confirming what many have suspected, about how the sausage is made: RT America was forced to register as a foreign agent at least partially on the basis of a report filled with false facts, obsolete data and blatant errors," said RT's editor-in-chief, Margarita Simonyan.
The ODNI report claimed that Russia had meddled in the 2016 US presidential election. The report did not provide any hard evidence of Russian interference, relying instead on a group of select analysts from the CIA, FBI and NSA who drew on intelligence collected by the three agencies. A seven-page annex was devoted to RT and its influence on the election "by serving as a platform for Kremlin messaging to Russian and international audiences." Riddled with factual errors, the analysis of RT America's coverage dated back to 2012 - long before the 2016 election.
T&R Productions LLC, which produces shows for RT America, filed a registration under the Foreign Agents Registration Act (FARA) on November 10, citing US government threats of legal action. Hickey denied that DOJ had threatened anyone, saying that the decision to register was "voluntary."
"Obviously, this whole thing was designed to interfere with RT's ability to do its work in the United States," political commentator Dan Kovalik told RT. "Instead of being a news source, it's now a foreign agent. And that will linger in people's minds. The goal is to delegitimize RT in the minds of American viewers."
Asked why the DOJ never responded to RT America's request for an advisory opinion regarding the FARA registration, Hickey said it would have been redundant.
"There was no purpose served by separately copying and pasting the very same reasoning and the very same facts into a new document," he said.
RT America's request for Freedom of Information Act (FOIA) disclosures on registration of other foreign-backed media outlets such as the BBC or Al Jazeera was making its way through the DOJ, Hickey said. "I understand that it's currently in the pipeline and individuals are evaluating it in due course. If we learn anything from that FOIA request, we'll take action as appropriate."
The DOJ official pushed back on questions that sought to paint T&R's FARA registration as proof it was somehow not a news organization or that it engaged in misinformation.
"What we do not do is make a judgment about 'good' journalism or 'bad' journalism. We are not interested in the point of view of the agent of a foreign principal," Hickey said. "What is relevant is whether you are expressing that point of view under the direction and control of a foreign principal."
According to Kovalik, RT presents different points of view from the US establishment, in particular on issues such as Ukraine and Syria.
"I think censorship is very much underway already and I think it will be harder for Americans to find alternative views of the world," he said.
American investigative Journalist, Charles Ortel, queried who exactly is authorized to decide which international news outlets are allowed to freely operate in the US, and which should be forced to register under FARA. "We are not behaving as we are applying these rules... concerning the way in which foreign media operate inside our country, we don't seem to be applying them evenhandedly," Ortel told RT. "There are lots of foreign principals which should have registered that haven't registered. And who is making the call to single out RT in this case? I would like to know as an American citizen."
Election reform and voter rights campaigner, Christina Tobin, said Washington is just "bullying" any alternative voices in the US, pointing out that RT was "essentially forced to register under this act."
"This is our US government bullying alternative media outlets. This is our US government wrongfully stifling free speech. Once again these US officials being misleading because they are products of a flawed system of the United States of America which is crumbling. A flawed system that is controlled by the powers that be – these individuals, the two-party system which is really one party, the mainstream media in the US," she said.
Going after RT suits the American government's overall strategy to diminish Russia's voice and influence in the world, Daniel Faraci, the Director of Grassroots Political Consulting believes.
"The hostility towards RT provided by many facets of the US government continues to escalate. While the US MSM is truly the propaganda machine, which is controlled by US corporations, RT/Russiaphobia, simply continues to fit the narrative of the escalation of tensions against Russia," Faraci noted in a written response to RT. "There is an intent by many on Capitol Hill to silence RT, and simply treat it as Russian propaganda as an excuse in the 'Russia-phobia' environment that exists."
The American resolve to subdue and marginalize a Russian perspective on world events will continue at any cost, the analyst believes, partly because RT's reporting contradicts the narrative presented by the US mass media.
"True stories, providing an alternative platform for 3rd party political candidates in the US, exposing issues in conflict zones, and so many other things the domestic MSM will not cover in their broadcasts provides motivation to shut down RT. Whether it is through FARA, or another means, we are in an environment where censorship and restricting freedom of the press in the United States is taking place, and may only get worse," Faraci concluded.
You can share this story on social media: