Trump blasts AG over 'Clinton collusion with Ukraine', says acting FBI director got '$700k from H'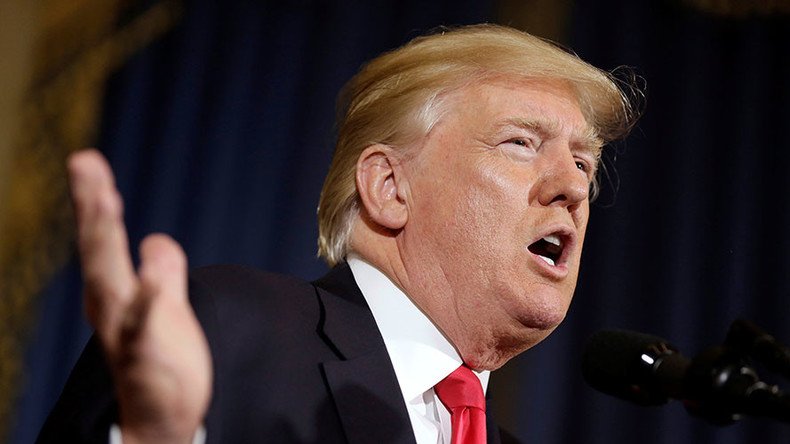 Donald Trump has accused his attorney general of taking a "very weak position" on the alleged collusion between the Clinton campaign and Ukraine, and once again brought up a contribution in which the wife of the acting FBI director received money "from H."
The barrage of accusations against Jeff Sessions and Andrew McCabe came in a series of tweets on Tuesday.
Attorney General Jeff Sessions has taken a VERY weak position on Hillary Clinton crimes (where are E-mails & DNC server) & Intel leakers!

— Donald J. Trump (@realDonaldTrump) July 25, 2017
Ukrainian efforts to sabotage Trump campaign - "quietly working to boost Clinton." So where is the investigation A.G. @seanhannity

— Donald J. Trump (@realDonaldTrump) July 25, 2017
The tweets, directed at Fox News host Sean Hannity, came after Donald Trump Jr. appeared on Hannity's show last week, during which the president's son was interviewed on his personal meeting with a Russian lawyer. The meeting has been used by Trump's critics as they continue to accuse his campaign of colluding with Russia to win the election.
The alleged collusion of the Democratic National Committee (DNC) and the Ukrainian government was reported months ago. Kiev allegedly tried to help Democratic candidate Hillary Clinton win the election and tried to score political points with her by attacking Trump campaign aid Paul Manafort, a decision which reportedly backfired after Trump became president.
The allegations against Ukraine resurfaced after Trump Jr. was accused of attempting to receive compromising material against Clinton from a Russian lawyer.
READ MORE: DNC coordinated with Ukraine, White House says amid Trump-Russia collusion claims
Trump also accused FBI acting director Andrew McCabe of getting "$700,000 from H for wife."
Problem is that the acting head of the FBI & the person in charge of the Hillary investigation, Andrew McCabe, got $700,000 from H for wife!

— Donald J. Trump (@realDonaldTrump) July 25, 2017
McCabe's wife Jill reportedly received hundreds of thousands of dollars in contributions for her 2015 campaign for Senate, from Virginia Governor and Clinton ally Terry McAuliffe. Andrew McCabe's capacity to investigate the case surrounding Clinton's email server was consequently brought into question by Republicans last year.
READ MORE: Clinton ally funded campaign of wife of deputy FBI director who oversaw email investigation
Trump raised the issue of the contributions during his campaign.
You can share this story on social media: