Seconds from disaster: Pilot makes emergency landing on LA freeway (VIDEOS)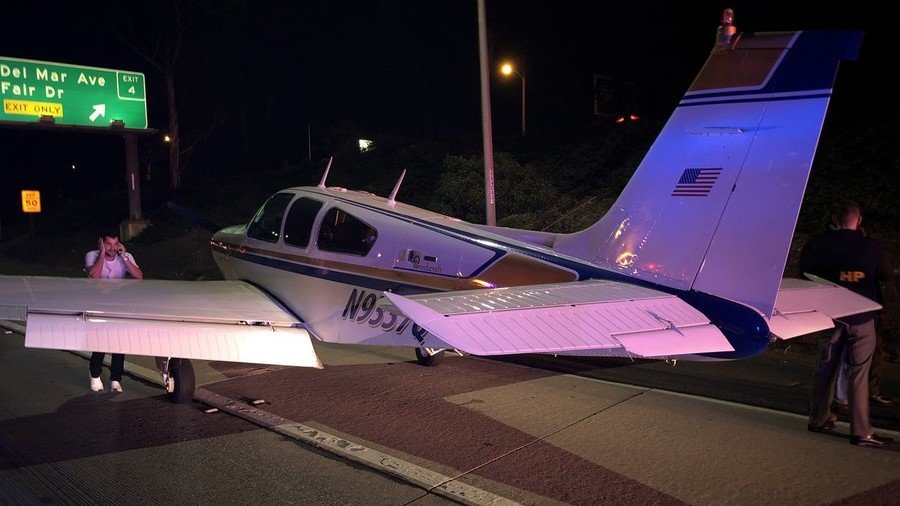 An ice-cool pilot was forced to make a Hollywood-style emergency landing on a Los Angeles freeway after the aircraft's engine lost power and strong winds made it impossible to divert to a nearby airport.
READ MORE: Turboprop plane buffeted by gusts of wind in harrowing landing (VIDEO)
Pilot Israel Slod was flying with friend Daniel Gross when the engine of their 1971 Beechcraft Bonanza G33 aircraft broke down. With high winds making it impossible to reach either the beach or John Wayne Airport in Orange County, the pair, who had been travelling to north LA from San Diego, took the sort of action usually reserved for Hollywood blockbusters and set the plane down on the freeway below.
"I saw an opening on the highway and I went for it right away," Slod told local news station KTLA. "I had to make a last minute, last second judgement on whether or not we could make it over, and we didn't have the airspeed to make it over, so I went under it."
READ MORE: Man stabbed for wearing smelly socks on plane
Emergency services closed down three lanes of traffic on the 55 Freeway in Costa Mesa following the incident. Captain Chris Coates of the local fire department told KLTA that it was a "complete miracle" that traffic was light on the road at the time of the landing.
Footage posted online by passing motorists shows the small plane parked on the side of the freeway Sunday night. The plane didn't hit any cars and no-one was injured in the incident which was reported at around 7:40pm local time.
You can share this story on social media: