Fowl play: Cops called as chickens run wild on LA freeway (VIDEO, PHOTOS)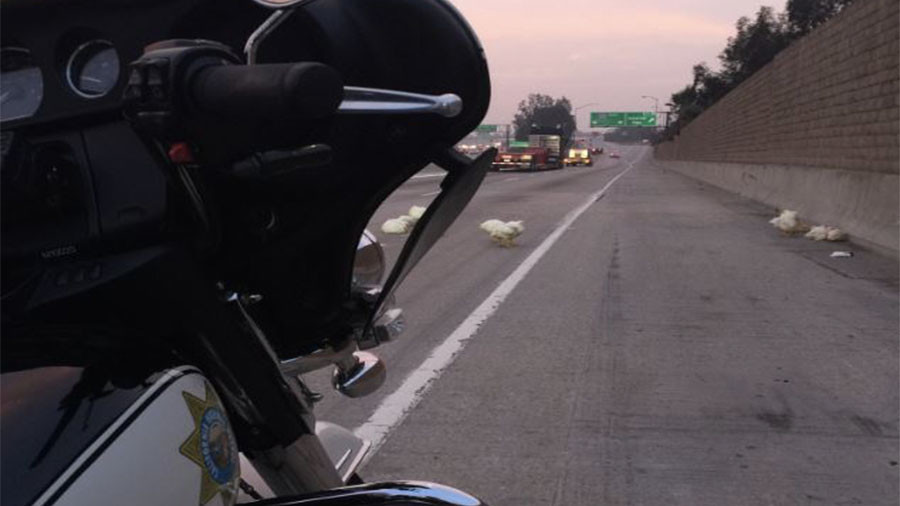 California Highway Patrol officers swooped into action on Tuesday to save 17 chickens from becoming roadkill on a major Los Angeles freeway.
Traffic police were forced to shut down a section of Interstate 605 near Westside Park, Los Angeles, to stage the bizarre poultry rescue. The incident occurred after a vehicle partially shed its load of live chickens on Tuesday morning, according to ABC 13.
A warning shared at the time on the California Highway Patrol reveals that lane two was blocked for 90 minutes while the animals ran loose.
The incident saw officers from Santa Fe Springs being called in to round-up the feathered creatures, with hilarious results. Footage posted by the Santa Fe police department shows officers laughing as they attempt to catch the freeway invaders from running wild.
The department managed to see the funny side, however, taking the opportunity to post a joke to its followers online. "Why did the chickens cross the road? It's an LA area freeway, so they crossed to not become fast food of course," the highway patrol posted on Twitter.
"We took these guys into custody without any trouble. They were too chicken to fight," the department later tweeted.
You can share this story on social media: