700,000 pesticide-contaminated eggs imported into UK – authorities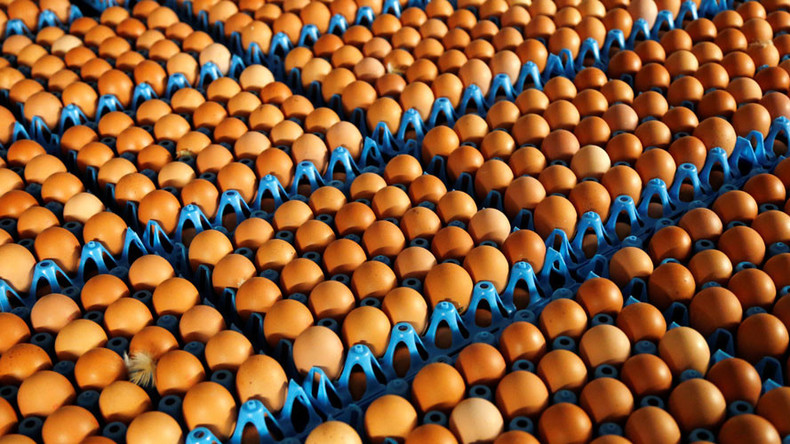 The UK's Food Standards Agency (FSA) has significantly widened its call for withdrawal of eggs contaminated with toxic insecticide Fipronil, which is banned from food destined for human consumption. It now says hundreds of thousands eggs have been tainted.
"It is likely that the number of [affected] eggs that have come to the UK is closer to 700,000 than the 21,000 we previously believed had been imported," the government agency said in a statement.
"However, as this represents 0.007 percent of the eggs we consume in the UK every year, it remains the case that it is very unlikely that there is any risk to public health from consuming these foods."
The FSA admitted that "some of the products made from these eggs will have had a short shelf life and will have already been consumed," but withdrew a list of over a dozen products – sandwiches and salads – from leading retailers Sainsbury's, Morrisons, Waitrose and Asda.
"Many of the eggs involved were mixed with other eggs which have not come from affected farms so Fipronil residues will be highly diluted," said the FSA.
The news came as Dutch and Belgian police said they had arrested two suspects in connection with the scandal, which has resulted in the recall of millions of eggs from supermarkets across the continent, the temporary shutdown of over 100 poultry farms, and the eventual cull of potentially millions of chickens.
"The Dutch investigation focused on the Dutch company that allegedly used Fipronil, a Belgian supplier as well as a Dutch company that colluded with the Belgian supplier," said a statement released on Thursday morning. "They are suspected of putting public health in danger by supplying and using Fipronil in pens containing egg-laying chickens."
It was previously reported that Fipronil was introduced by a Dutch company that provided sanitary services to breeders in Belgium and Netherlands, EU's biggest egg producer, who were not aware of the violations.
Germany and the Netherlands have also accused Belgium of failing to disclose contamination, even after it began showing up in tests, resulting in later unnecessary recalls, though Brussels says it did not intend to cover up the incident.
Fipronil is a widely-used anti-lice agent used to spray farm animals, is absorbed into the skin, and passes into hatched eggs. In large quantities, it causes liver, kidney and thyroid damage to humans, though likely as a result of either long-term or direct exposure to the chemical.
You can share this story on social media: