The Opioid Express: Illegal Chinese-made drugs entering US via regular mail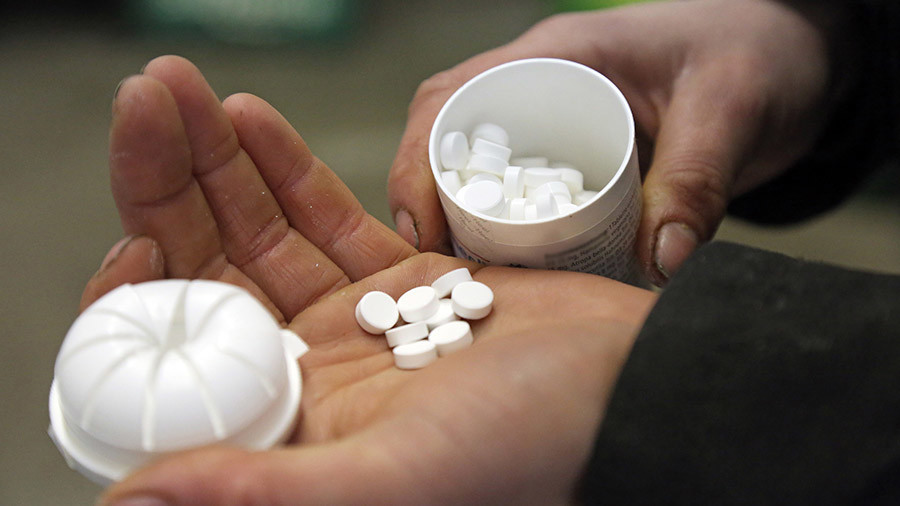 The highly addictive drug known as opioid fentanyl is arriving in the US via the postal service from China, according to the findings of a congressional report released Wednesday.
Compounding the epidemic of opioid usage in the United States, which President Trump has declared a national public health emergency, a year-long probe by a Senate Homeland Security and Government Affairs investigations subcommittee discovered a gap in the mail service that allows Americans to purchase the drug easily over the internet.
Shipments of opioid fentanyl, which caused more than 20,000 deaths in the US in 2016 due to overdoses, are sent from laboratories in China to individuals who "consume them or to middlemen who dilute them for resale," Reuters reports.
The probe did not mention the names of the suspected labs.
The US Postal Service has failed to install a system to identify advanced electronic data (AED) with regards to shipments destined for American arrival points, which would help US Customs and Border Protection agents spot suspicious packages.
The US Postal Service said in a statement it is "working aggressively with law enforcement and key trading partners to stem the flow of illegal drugs entering the United States."
We are "prioritizing obtaining AED from the largest volume foreign posts, which collectively account for over 90 percent of inbound volumes," it added.
Focusing its attention on six Chinese providers located in China out of hundreds, the Permanent Investigations Subcommittee said it was able to identify 500 online purchases of fentanyl, primarily in powder form, that had an estimated street value of around $766 million.
The investigation concluded that the US Postal Service received AED on 36 percent of all incoming international packages, which means that some 318 million parcels last year fell below the radar.
Chinese foreign ministry spokeswoman Hua Chunying said in a daily briefing that prevention of drug production, possession and sale represents a "bright spot" in China-US relations.
American fatalities linked to opioids including fentanyl totaled more than 42,000 in 2016, according to government data.
Sales from China tracked by the Senate investigators were connected to seven confirmed synthetic opioid-related deaths in the US, the report confirmed.
The Senate probe was carried out by Republican Senator Rob Portman of Ohio, the subcommittee chairman, and Senator Tom Carper of Delaware, the panel's senior Democrat.
"We now know the depth to which drug traffickers exploit our mail system to ship fentanyl and other synthetic drugs into the United States," Portman said in a statement.
A meeting is scheduled for Thursday to grill postal, border protection, and other officials on the issue.
You can share this story on social media: