Trump declares opioid epidemic a public health emergency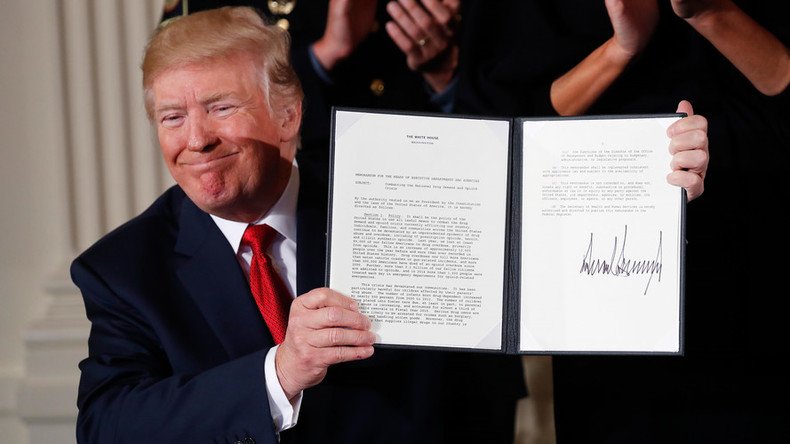 Calling the opioid epidemic "the worst drug crisis in America," President Donald Trump declared it a nationwide public health emergency and vowed to defeat the scourge of drug addiction.
Trump claimed the opioid crisis was ripping "the nation apart" and signed a measure that will mobilize his administration to address drug addiction and opioid abuse at the White House on Thursday.
He said the problem may "get worse before it get better" but vowed that it will ultimately get better.
"Number of drug users and the addicted will start to tumble downward," Trump says as he declares opioids a national public health emergency. pic.twitter.com/suT8VZnGYE

— Jennifer Jacobs (@JenniferJJacobs) October 26, 2017
Under the new measures, health officials will be able to access telemedicine services, including substance abuse treatment for people living in rural and remote areas. The Department of Health and Human Services will be be able to make temporary appointments of specialists to respond to the emergency. The Department of Labor will be allowed to issue worker grants to help those displaced from the workforce due to addiction, and shifts resources within HIV/AIDS programs to help people eligible for those programs receive substance abuse treatment.
The administration will also provide relief for state governments looking to access Medicaid funding for drug treatment centers with more than 16 beds.
Trump recalls his brother Fred's influence & why he abstains from cigarettes & alcohol; importance of 'advertising' to keep people drug-free pic.twitter.com/1IyqFXS7J3

— RT America (@RT_America) October 26, 2017
Trump also promised more research funding for opioid alternatives, and "spending lots of money coming up with a non-addictive solution." He also committed the government to a "massive advertising campaign" reaching out to young people to avoid drugs.
"It we can teach young people, and people generally, not to start, it's really, really easy not to take them," said the president, on stage with people whose lives had been touched by the opioid crisis.
Opening remarks came from the First Lady Melania Trump, who said she had taken a "larger interest in what I can do to fight the epidemic" and that she had been visiting and listening to people affected by the epidemic.
On August 30, the US Attorney-General Jeff Sessions has said that current opioid crisis is one of the top "lethal issues" in the country. Sessions said that about "60,000 Americans lost their lives to drug overdoses" in 2016, a "big increase" from the 52,000 deaths the year prior.
The administration's efforts come on the heels of the report by the Commission on Combating Drug Addiction and the Opioid Crisis, saying that America faces the death toll equal to "September 11th every three weeks" as the epidemic claims the lives of up to 142 Americans every day.
Prescription opioids, such as the pharmaceutical brand Oxycontin, are drugs used for pain relief, and are often extremely addictive.
Early in his administration, Trump created a presidential commission headed by Governor Chris Christie (R- New Jersey) with the goal to study mechanisms to combat and treat the US opioid epidemic. The president said the commission's report of recommendations is due next week.
The president's declaration lasts 90 days and can be renewed. What the declaration didn't add was any additional dollars to the Public Health Emergency Fund which currently contains $57,000, according to the Department of Health and Human Services.
AP reported officials will be seeking more from Congress during the end-of-the-year budget negotiations.
You can share this story on social media: