5 missing after gas well explosion in Oklahoma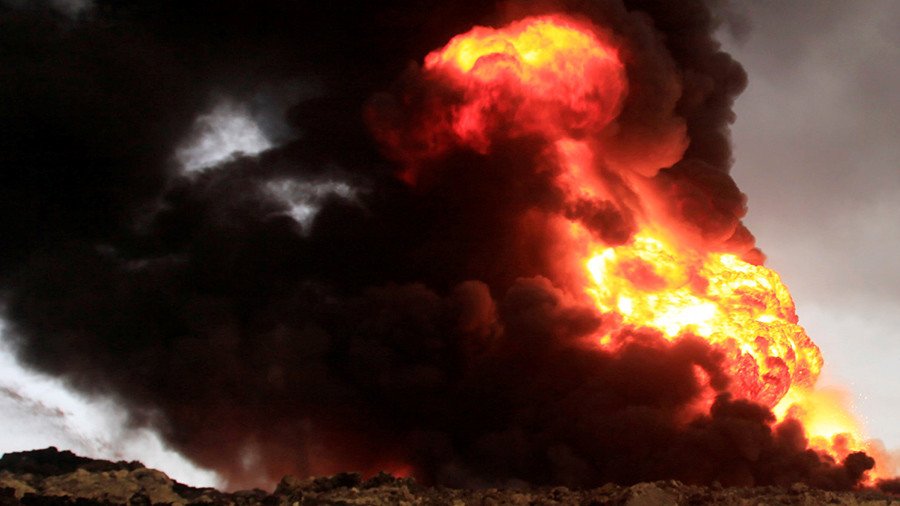 Five oil rig workers in Oklahoma are missing following an explosion at a gas well. The fire reached "everything" on location at the well situated about 100 miles southeast of the city of Tulsa.
As of 3:30pm, secondary fires that started after the explosion have been extinguished, but the head of a collapsed derrick, a type of crane with a moveable pivoted arm for lifting or moving heavy weights, was still burning.
Authorities searched a wooded area around the well for the missing people, with no success. Seventeen others were rescued.
After the explosion, which was reported a little before 9:00am Monday, one person was taken to to be treated at a burn unit, according to Pittsburg County Emergency Management Director Kevin Enloe, KOTV reported.
Around a dozen people were working on the site at the time of the explosion, which caused flames to shoot 50 feet in the air. The cause of the fire has not been determined, according to KOTV.
The exploded well is owned by Red Mountain Operating and a Houston-based company called Patterson UTI was conducting the drilling, according to the company's website, KOTV reported.
A fire control team from Houston arrived to shut down the well and put out the fire.
"They're just checking everything, trying to get everything cooled down on location, but it's still hot and there's still a lot of gas coming out of the wellhead," Enloe said.
Authorities said they do not expect to get into the wreckage Monday evening.
At a news conference earlier, officials said firefighters were not battling the initial blaze, but crews were set up around the area in order to fight any other fires that could emerge because of the existing flames, KOTV reported.
Video taken by KOTV shows the heat from the explosion eventually caused the gas well's derrick to collapse, which in turn, caused flames to spread across the site.
At least three medical helicopters landed at the site following the explosion, according to Enloe, KOTV reported.
Earlier Monday, before most of the fires were extinguished, Enloe said, "Everything that is on location is on fire," and crews had to be pulled back after several explosions, CNN reported.
You can share this story on social media: