'Washington swamp': Gov shutdown looms as pols play blame game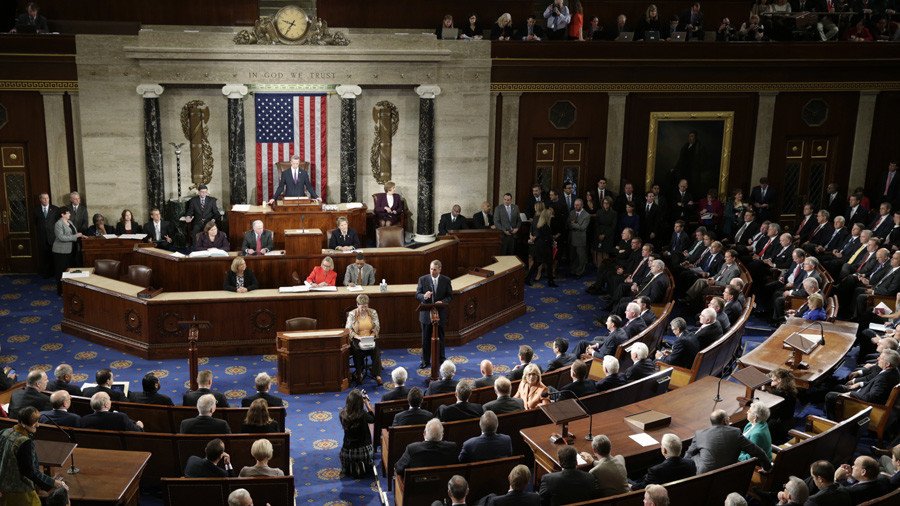 The White House and lawmakers  traded barbs as a shutdown looms. The US government will run out of money if the senate doesn't pass a resolution tonight to approve funding for the next month.
The House passed a four-week spending bill, but senate Democrats have vowed a filibuster unless the Deferred Action for Childhood Arrivals (DACA) measures are addressed in the bill. DACA, introduced under Obama administration, offers protection for children of undocumented parents from deportation and gave them temporary work papers.
As it was during the government shutdown in 2013, Republicans and Democrats are struggling to find consensus. Then, it was a tussle over the Affordable Care Act that was inserted and then removed from the bill. For 16 days, the government was paralyzed, and 800,000 employees were granted leaves of absence until a temporary appropriations bill was signed. House Minority Leader Nancy Pelosi (D-California) called the Republicans "legislative arsonists" at the time.

The Trump administration was quick to reuse that phrase and hurl it back at the Democrats during a White House press briefing.
"I think that there's obviously a lot of hypocrisy in this town. I think there's some ironies to point out. As the Director said, Nancy Pelosi a couple years ago called them, "I call them legislative arsonists" --" said Marc Short, White House legislative director.
To which Budget Director Mick Mulvaney replied "That was me," a comment met with reporter's laughter.
Senator Dianne Feinstein (D-California ) told CNN that "shutting down the government is a very serious thing."
"People die, accidents happen," Feinstein told CNN. "You don't know. Necessary functions can cease. There is no specific list you can look at and make a judgment: 'Well everything is going to be just fine.' You can't make that judgment. So, I think it's a last resort. And I'm really hopeful we don't get to it."
Mulvaney tried to deflect responsibility from the Trump administration, and told reporters at the White House they're calling it "Schumer's Shutdown," in reference to Senate Minority Leader Chuck Schumer (D-New York).
"They [Democrats] chose to make it worse," Mulvaney said."They're for clean CRS; they're for the extension to the CHIP program. Many of them support the delay in some of the taxes, most specifically the medical device tax, the Cadillac tax, especially. They don't oppose anything in the bill, but they are opposing the bill."
Schumer blamed the White House, however.
Nobody wants to shut down the govt, not Dems, not the GOP. The only one who has ever rooted for a shutdown is @realDonaldTrump who said our country could use "a good shutdown" – only he could come up with that. But no shutdown can be good for the American people.

— Chuck Schumer (@SenSchumer) January 19, 2018
While in a poll, American voters weighed in with their opinion.
House Speaker Paul Ryan (R-Wisconsin) said Democrats were holding up the vote because of an issue that wasn't on deadline.
President Donald Trump reposted Feinstein's comment in an early morning tweet.
"Shutting down the government is a very serious thing. People die, accidents happen. I don't know how I would vote right now on a CR, OK?"Sen. Dianne Feinstein (D-Calif)https://t.co/7xP3CBnv5j

— Donald J. Trump (@realDonaldTrump) January 19, 2018
Marc Short, the White House legislative director, told reporters that any shutdown would be the fault of the Democrats.
"The President stands ready to sign the bill but it appears Senate Democrats are entrenched on causing a government shutdown," he said.
Short said Democrats were holding out over the renewal of DACA. Mulvaney said the DACA demand is unreasonable.
"DACA does not expire until March 5," said Mulvaney. "There's no DACA bill to vote on and there's no emergency in terms of timing on DACA. DACA does not expire until March 5th. So there's absolutely no reason to tie these two things together right now."
Meanwhile, DACA advocates mobilized outside the White House as Senator Schumer met with Trump on Friday afternoon.
"The urgency is now, not March 5th – the date that Mr. Trump arbitrarily gave to Congress to act," said Cesar Vargas from the Dream Action Coalition.
"Each day 122 Dreamers lose their DACA protection," Vargas added. "Dreamers are tired and are ready to blame to blame the party in control of Congress and the White House does not act today."
"We are tired of Democrats just saying nice words but not committing to real leadership. Schumer must say no deal unless the #DreamAct is included," - Yesenia Mata of the Dream Action Coalition pic.twitter.com/3bDpebGWiB

— DRM Action Coalition (@DRMAction) January 17, 2018
You can share this story on social media: