Turpin parents plead not guilty to child torture as horrific details emerge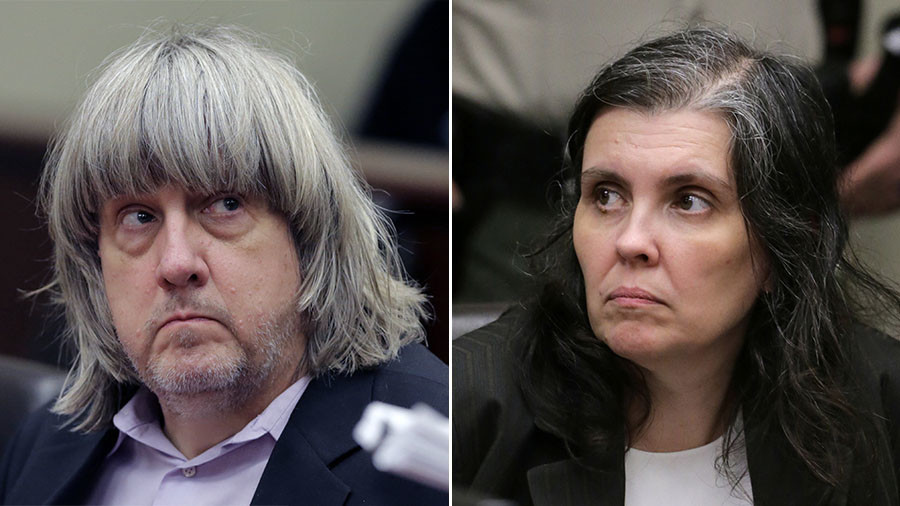 A California couple who chained their 13 children to beds and punished them for washing their hands, pleaded not guilty to multiple counts of torture. The district attorney said the siblings lacked a "basic knowledge of life."
David Turpin, 57, and Louise Anna Turpin, 49, were arrested this week after authorities discovered 12 of their children were malnourished and being held captive in their house in Perris, California, 70 miles east of Los Angeles.
On Thursday, Riverside County district attorney Michael Hestrin announced that both Turpins were being charged with 12 counts of torture, seven counts of abuse on a dependent adult, six counts of child abuse or neglect and 12 counts of false imprisonment.
David Turpin was also charged with one count of lewd act on a child by force or fear or duress. Hestrin said the victim was one of Turpin's daughters under the age of 14.
If convicted on all of the current charges, the Turpins face up to 94 years to life in prison.
"In more than 20 years as a prosecutor in Riverside County, this is one of the most disturbing cases I've seen," Hestrin said, according to NBC News. "We are fully prepared to seek justice in this case and to do so in a way that protects all of these victims from further harm."
DA Mike Hestrin announces the many charges our office has filed against David and Louise Turpin for the torture and abuse of 13 children. If convicted as currently charged they face about 94 years to life in prison.

— Riverside DA Office (@RivCoDA) January 18, 2018
Police were first alerted to the crimes at the Turpin residence when one of the siblings managed to escape from the house. The 17-year-old daughter who called police had planned her escape for over two years. She climbed through a window and took one of her sisters with her. However, that child eventually became frightened and went back into the house.
Hestrin said the parents managed to unchain two of the victims before the police entered. An 11-year-old and a 14-year-old child were unchained as the police stood at the front door, but police found a 22-year-old still chained to a bed.
The victims told investigators they started being tied up as a punishment "many years ago."
The charges against the Turpins stem from incidents that began in 2010 when the family moved from the Fort Worth area in Texas. At the time, the parents were living apart from their children, only dropping food off "from time to time." In 2010, the family moved to Mirada, California and then to Perris in 2014.
The neglect and abuse "appeared to intensify over time," and each time the family moved, Hestrin said. "What started out as neglect, became severe, pervasive, prolonged child abuse," he said.
The district attorney said the Turpins began by hogtying their children with ropes. When they were able to escape, they started using chains and padlocks to restrain the siblings to their beds for "weeks or even months at a time."
While they were chained up, the children were "often not released to go to the bathroom." They were also only allowed to bathe once a year.
Hestrin said the couple locked their children up as a punishment for washing their hands above the wrist area. Both parents would accuse them of "playing in the water," and they would be chained up.
The punishments also included "frequent beatings and strangulation," Hestrin said.
When the siblings were not chained, they were locked in different rooms and fed "very little" and "on a schedule."
"About the only thing the children were allowed to do in their rooms or chained up, was to write in journals," Hestrin said.
Investigators found "hundreds" of journals, and said they are currently combing through them for evidence.
"I think those journals are going to be strong evidence of what occured in that home," he said.
"They bought a lot of toys that they never opened," Hestrin said, referring to the parents. "They bought food that they ate, and they didn't share with the children."
None of the victims were able to see a doctor over the past four years, and none of them have ever seen a dentist, Hestrin added.
Investigators think the couple was able to conceal their crimes by sleeping during the day and staying up all night. Hestrin said the family would typically go to sleep around 4:00am to 5:00am and sleep through the day.
"Crimes like these happen behind closed doors in dark rooms, and so, of course, people who commit these types of crimes have to hide their crimes and I think that's part of it."
However, at least one of the older siblings was able to attend classes at a local college. Hestrin said Louise would accompany the older sibling to the school and wait outside the classroom and take him home.
After the children were taken out of the home this week, Hestrin said they were all examined by medical professionals who found that they suffered from severe caloric malnutrition associated with muscle waste.
"To give you an example, one of the children, aged 12, was the weight of an average seven year old," Hestrin said. "The 29 year-old female victim weighs 82 pounds."
Several of them were also found to have cognitive impairment and neuropathy, a kind of nerve damage.
Melissa Donaldson, the director of the victim services division, said they had "multiple issues," and they will need long-term help to make sure they are not revictimized.
Many of the children lacked a "basic knowledge of life," Hestrin said, adding, that many of them did not know what a police officer was. When police asked the 17-year-old if there was any medication or pills in the house, he allegedly did not know what medication or pills were.
"They're in good hands, they're being cared for, they're all in the hospital, their well-being is being looked at, their health is being looked at. They are in good hands," Hestrin said. "As far as where they are going to end up, I don't know."
"As a prosecutor, there are cases that stick with you, that haunt you, and sometimes in this business we're faced with looking at human depravity, and that's what we're looking at here," Hestrin said.
"This is severe, emotional, physical abuse. There's no way around that. This is depraved conduct."
Hestrin said investigators think that all the siblings are the Turpin's biological children and they were all born in hospitals.
He said the basis of the torture charges are not for one particular thing, but for "a combination of severe abuse over time."
During their first court appearance Thursday, the Turpins entered a not guilty plea. Their next court date is scheduled for February 23.
David and Louise Turpin enter not guilty pleas on all counts in Perris torture case. Next court date is Feb. 23.

— Riverside DA Office (@RivCoDA) January 18, 2018
Hestrin asked for bail to be set at $13 million each – $1million dollars for each of the victims, but Turpin's lawyer, David Macher, said bail was set at $12 million, according to NBC News.
"What we would like the public to know is that our clients are presumed to be innocent, and that's a very important presumption," Macher said, according to NBC News. "Second, we're going to provide a vigorous defense on behalf of Mr. Turpin."
In response to an outpouring of support for the victims, Riverside University Health System (RUHS) Foundation opened a support fund for the 13 siblings.
"Our phones started ringing almost immediately with calls from private individuals and organizations wanting to know how they can help," Erin Phillips, executive director of the foundation, said in a statement.
Phillips added that the 501(c)3 charity will transfer 100 percent of all funds raised to a trust being established for the siblings' long-term rehabilitation.
You can share this story on social media: