Speeding car takes flight, plows into 2nd floor of office building (PHOTOS)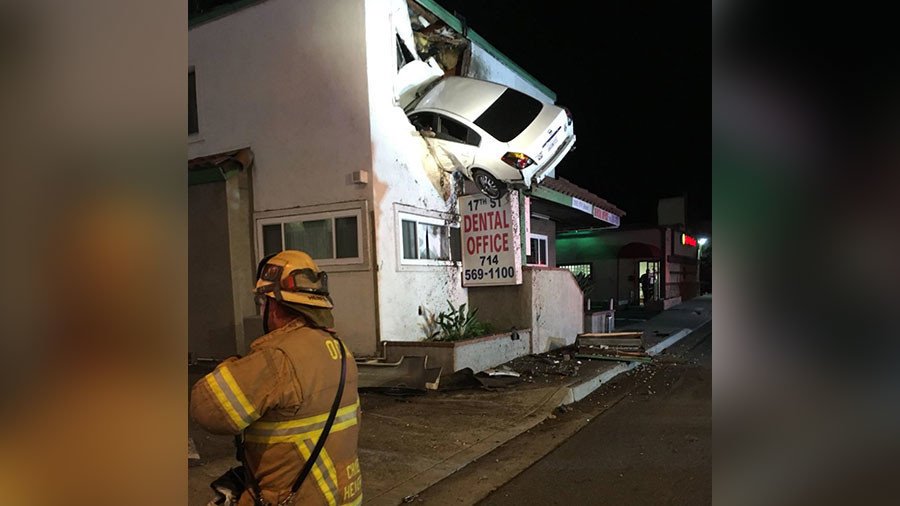 By some improbable fluke of physics, a speeding car went airborne and plowed into the second floor of a California office building. The bizarre crash left two people injured.
The vehicle became partially wedged in the side of a dental office building after it hit a road divider in the Orange County city of Santa Ana shortly before 5:30am, Sunday.
Dashcam video from an Orange County Transportation Authority bus shows the moment the car flew into the structure.
Orange County Fire Authority (OCFA) posted images of the unbelievable scene online, revealing a white sedan firmly stuck in the building.
The fire authority initially reported that one person was still trapped inside the vehicle while another person had escaped from the car.
According to an eyewitness report to NBC Bay Area News, the driver freed himself but was left dangling off the bottom of the vehicle until rescue crews helped him down.
READ MORE: Russian man in armored vehicle crashes into store window before stealing wine (VIDEO, PHOTOS)
An hour later the OCFA reported that both victims had been extricated with only minor injuries. The crash also caused a small blaze that was quickly extinguished by fire crews.
The Santa Ana Police Department said in a statement that the vehicle was driving at high speed at the time of the crash. Police said the driver had admitted to using narcotics and was taken to hospital for observation.
LA County Fire removed the vehicle from the structure following an assessment of the integrity of the structure by Public Works.
You can share this story on social media: