'Don't eat laundry detergent': Tide Pod meme prompts police warning (IMAGES)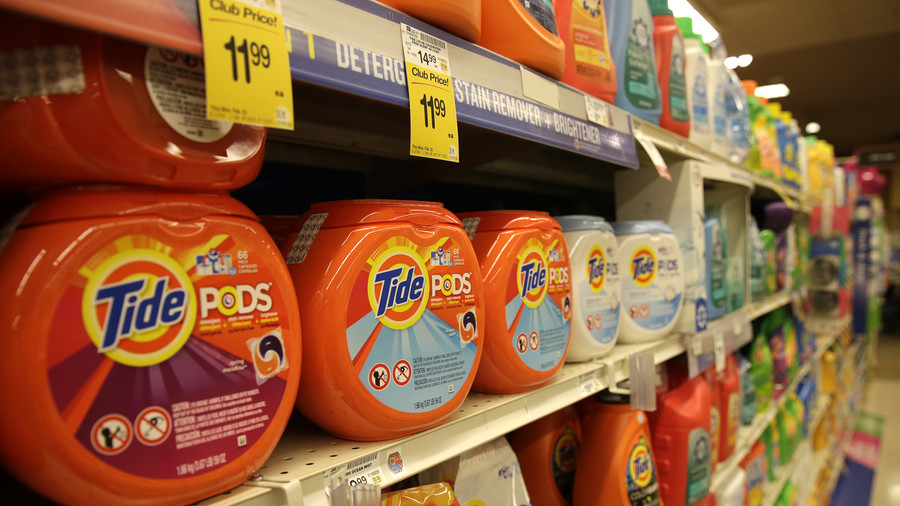 A Kansas police department has actually been forced to warn people not to eat laundry detergent after a series of online memes sparked a dangerous 'challenge.'
The joke about Tide laundry detergent capsules being fruit-flavored snacks has been circulating on the internet for years. The so-called "challenge" of eating the pods started in 2016, but the ridiculous trend has recently experienced a resurgence thanks to a series of memes depicting the pods as "forbidden fruit."
READ MORE: 2017: What did it meme for you?
"How is it 2018 and we have to warn people to not eat laundry detergent?" wrote Lawrence Police Department on Twitter, while alluding to the trend.
The warning was prompted by a KSHB report from Phoenix, Arizona, in which toxicologist Dr Frank LoVecchio said doctors have seen multiple cases recently where teens intentionally consume the pods.
Needless to say, ingesting chemicals meant for cleaning is generally not advised. If consumed, the pods can burn your mouth, lips and esophagus, while the soluble synthetic membrane that holds the liquid can cause central nervous system depression, LoVecchio warned.
According to the American Association of Poison Control Centers, there were more than 10,500 reports of laundry pod exposures among children of 5 years and younger in 2017
READ MORE: Red hot craze: French schools hit by 'chili pepper game' fad, police alarmed
As a rule, the detergent pods are only meant for clothes, and certainly not for consumption, according to a statement from Tide's parent company Procter and Gamble. "They should not be played with, whatever the circumstance is, even if it is meant as a joke," read the statement.
You can share this story on social media: