2 injured as Trump Tower catches fire in Manhattan, NY (VIDEOS)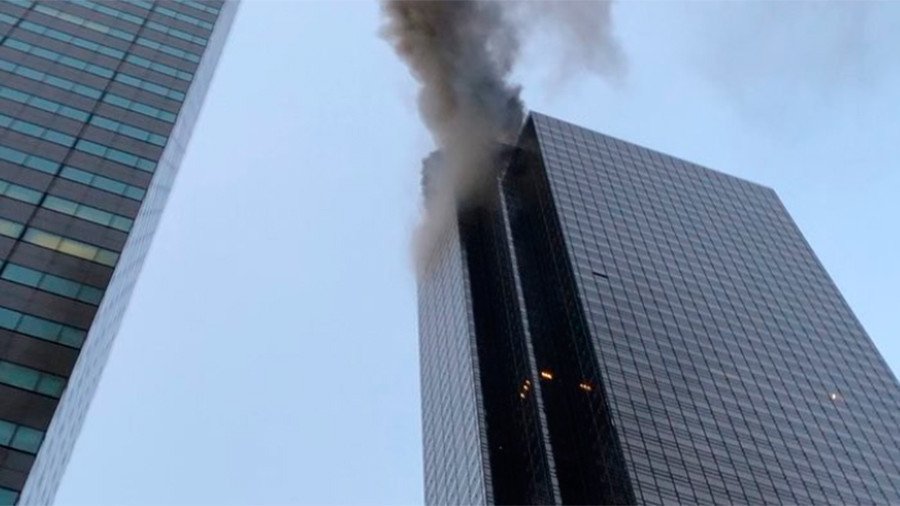 Two people were injured, one of them seriously, as a blaze broke out in New York City's Trump Tower, the headquarters of sitting President Donald Trump's business empire, before quickly being brought under control by firefighters.
Footage from the scene on Monday showed a column of smoke rising from the 68-story skyscraper as firefighters stood on its roof.
The blaze was reported at the high-rise building on Fifth Avenue just before 7am local time, the New York City Fire Department (FDNY) told media, adding that more than 120 firefighters were at the scene. By around 8am, the flames were brought under control and smoke from the roof had started to dissipate.
Though initial reports suggested that there had been no casualties, the FDNY has since confirmed that two people were hurt, one of whom received possible life-threatening injuries. It's not yet clear whether they were civilians or firefighters.
On Twitter, Donald Trump's son Eric blamed a "small electrical fire in a cooling tower" for the flames.
"The New York Fire Department was here within minutes and did an incredible job," he wrote. "The men and women of the #FDNY are true heroes and deserve our most sincere thanks and praise!"
Trump Tower, which houses both corporate offices and apartments, was not evacuated. The building used to be Donald Trump's primary residence before his election victory and inauguration last year, but the president himself was reported to be in Washington, DC at the time of the fire.
You can share this story on social media: