Twitter cites Trump's 'World Leader' status for not banning him over nuke tweet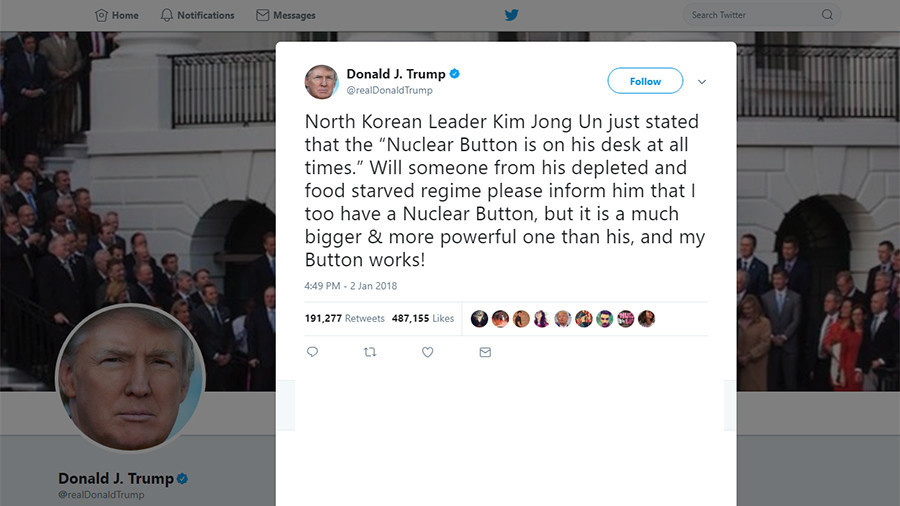 Under pressure to delete President Donald Trump's account, Twitter has clarified why his "Nuclear Button" tweet against North Korean leader Kim Jong-un does not violate its standards against threatening violence.
Twitter released a statement Friday after a number of Twitter users said the January 2 tweet threatening nuclear war violated Twitter's revised Terms of Service, launching a campaign to stomp out violent threats on their platform, often by shutting down offending accounts.
"There's been a lot of discussion about political figures and world leaders on Twitter, and we want to share our stance," Twitter stated, adding that it "is here to serve and help advance the global, public conversation. Elected world leaders play a critical role in that conversation because of their outsized impact on our society."
READ MORE: No, Trump doesn't watch the 'Gorilla Channel' 17 hours a day
Twitter said shutting down Trump's account after the controversial post "would hide important information people should be able to see and debate." Further, Twitter stated that a decision to shut down an account controlled by a country's leader "would also not silence that leader, but it would certainly hamper necessary discussion around their words and actions."
During a speech that Kim Jong-un gave on New Year's Day, he warned the US that North Korea's nuclear forces have been "completed," and his launch button was always in reach. The next day, Trump tweeted in response.
Some on Twitter have pointed out what they see as an alleged double-standard being perpetrated.
READ MORE: Trump legal action against publisher backfires, tell-all book gets early release
Trump's tweet about the US' nuclear arsenal has now received over 485,000 'Likes' and more than 190,000 retweets.
You can share this story on social media: