Dow passes 25,000 for 1st time after new jobs figures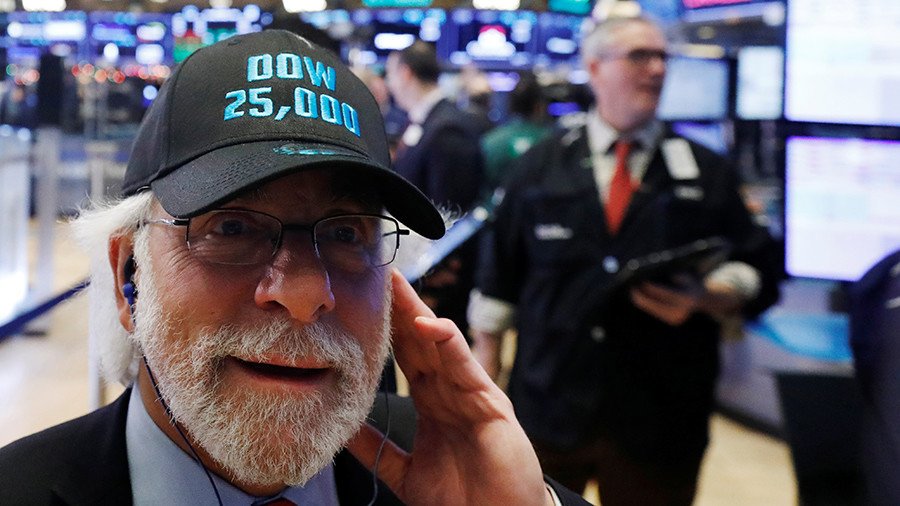 Wall Street opened with a bang, with the Dow soaring past 25,000 points for the first time ever, following a job data report showing the private sector added 250,000 jobs in December.
The Dow composite, a stock index from Dow Jones Indexes that tracks 65 prominent companies, shot up 0.55 percent, or 38 points, to 25,060.88 Thursday.
President Donald Trump took to Twitter after learning of the news and attributed the historic rise in the stock market to past regulation cuts he set forth as president. He also promised more were on the way.
Dow just crashes through 25,000. Congrats! Big cuts in unnecessary regulations continuing.

— Donald J. Trump (@realDonaldTrump) January 4, 2018
As the Dow reached its milestone, the S&P 500, a stock market index based on the market capitalizations of 500 large companies with common stock listed on the New York Stock Exchange or Nasdaq, also rose 0.46 percent, or 12 points, as of 9:58am ET Thursday, according to Investing.com
The NASDAQ Composite, another stock market index relating to common stocks and similar securities listed on the NASDAQ stock market, rose by 0.26 percent, or 18 points.
The 250,000 additional jobs is the biggest rise since March, according to a report by ADP Research Institute. However, the same job data report also showed that jobless claims had risen by 3,000 in the week ending on December 30.
Semiconductor Advanced Micro Devices (NASDQ:AMD) was one of the company's that led the way after the morning bell rung Thursday, as it rose 6.67 percent. Computer manufacturing firm IBM (NYSE: IBM) went up 1.33 percent, and payment processing company, Square (NYSE:SQ) inc., went up 2.63 percent.
Bank of America (NYSE: BAC) jumped 1.41 percent, Investing.com reported.
READ MORE: Federal Reserve chairman nominee opposes 'Audit the Fed'
Before becoming president, Trump called the stock market a "big, fat, ugly bubble."
During the first presidential debate in September 2016, then-candidate Trump said, "Believe me, we're in a bubble right now, and the only thing that looks good is the stock market. But if you raise interest rates even a little bit, that's going to come crashing down."
In the same debate, Trump also blasted Janet Yellen, the US Central Bank's Chair, for keeping interest rates low during the tenure of President Barack Obama who appointed her. He accused the Federal Reserve of "doing political things."
Trump's nominee to replace Yellen is Jim Powell.
You can share this story on social media: