'I was firm & strong': Trump claims credit for N Korea talks with Seoul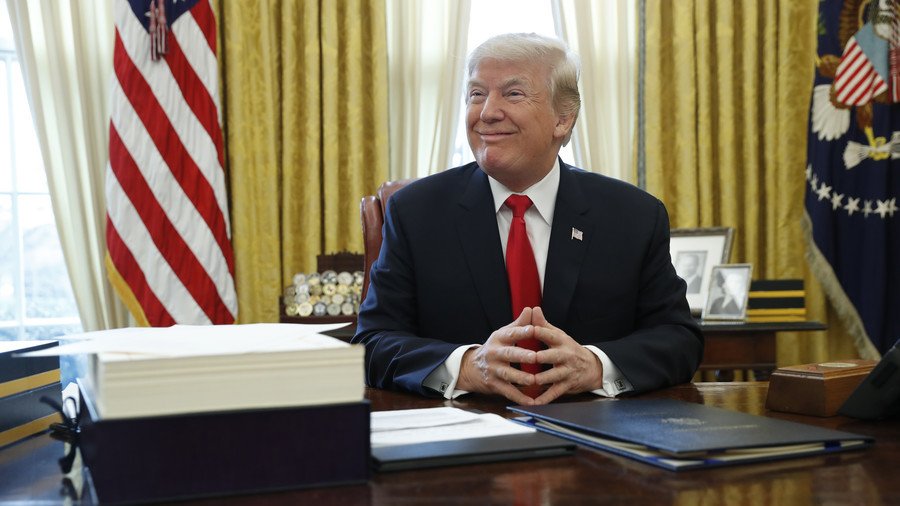 US President Donald Trump is taking credit for the apparent thawing of diplomatic tensions between South Korea and North Korea, stating that his "firm and strong" stance has enabled talks.
The governments in Seoul and Pyongyang have technically been at war for nearly 70 years since the end of the Korean conflict divided the peninsula. But the warring nations exchanged messages for the first time in two years via a hotline on Wednesday.
A 'hotline' communication channel between the two administrations was reopened this week, having fallen silent in January 2016. It follows Kim Jong-un's New Year address, in which he said that the two countries should "lower the military tensions on the Korean Peninsula to create a peaceful environment."
READ MORE: Trump warns North Korea new threats will be met with 'fire & fury'
Trump, who has openly traded insults with Kim and once suggested North Korea's long-range missile program should be met with "fire and fury," tweeted on Thursday that his approach to the delicate situation had fostered an environment for talks.
With all of the failed "experts" weighing in, does anybody really believe that talks and dialogue would be going on between North and South Korea right now if I wasn't firm, strong and willing to commit our total "might" against the North. Fools, but talks are a good thing!

— Donald J. Trump (@realDonaldTrump) January 4, 2018
Hitting out at "failed experts," Trump asked if the recent communication between North and South Korea would really be happening without his involvement. "Fools, but talks are a good thing," the US president added.
Last year saw political tensions on the Korean peninsula ratcheted up by several notches amid a series of missile tests by North Korea.
After Pyongyang launched a missile in August that flew over Japan, Trump stated that "all options," including military intervention, were on the table. The president's statement came after US bombers staged a show of force by flying over the Korean Peninsula.
A North Korean spokesperson responded by highlighting that the US territory Guam could be a possible target for their long-range missiles.
You can share this story on social media: