'No Trump, no war': 1,000s of South Koreans rally for peace ahead of US president's visit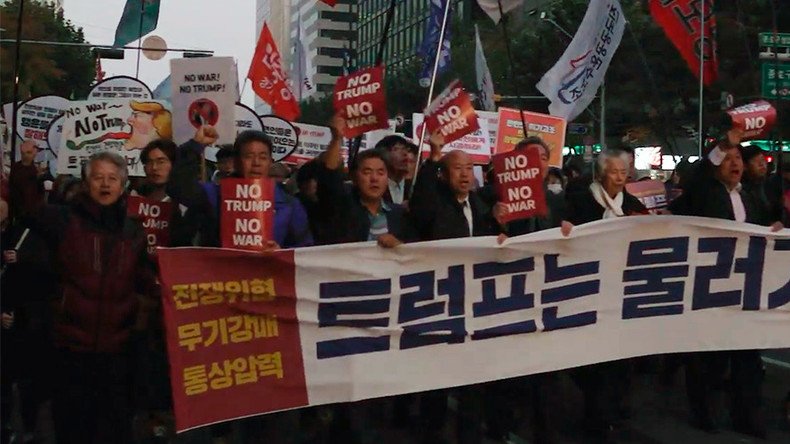 Thousands of South Koreans flocked to streets of Seoul to demand peace with North Korea and protest the upcoming visit by US President Donald Trump, on his first Asian tour.
"We oppose war!" around 5,000 protesters chanted in central Seoul, waving banners and balloons that read "Peace, not war" and "We want peace," Yonhap news agency reported Sunday.
Some held placards that said "No Trump! No war!" and "Trump, get out!" Donald Trump is "a misogynist, and he doesn't care about life and peace of the South Korean people," one person told Ruptly news agency.
Others slammed both the US leader and his North Korean counterpart, Kim Jong-un for the rising tensions. "Trump and Kim... are using the current military standoff for their own political gain, while we South Koreans are trembling with fear of war!" one activist said on stage, as cited by AFP. The demonstration was peaceful, though it coincided with a separate protest by a right-wing group called Seoul Regional Forum, which welcomed Trump's scheduled visit to South Korea, Yonhap reports.
Demonstrators waved South Korean and US flags, shouting slogans in support of the two countries' military alliance. The protests come as Trump is set to visit Seoul amid heightened tensions in the troubled region. Before his departure to Japan on Sunday – his first stop in Asia – Trump delivered yet another threat to Pyongyang.
"We have one problem. That's called North Korea," Trump told Fox News. "I must tell you North Korea's a thing that I think we will solve and if we don't solve it, it's not going to be very pleasant for them. It's not going to be very pleasant for anybody." Despite his fiery rhetoric, the president also said on Sunday that North Koreans are "great people."
READ MORE: 'North Koreans are great people' – Trump
Trump has stated before that US forces are "locked and loaded" and ready to "totally destroy" North Korea, or unleash "fire and fury" on the reclusive state. These threats came in response to North Korea's sixth nuclear test – carried out in September – which involved the detonation of a thermonuclear device, according to Pyongyang.
The US and its regional allies have also ramped up joint military exercises, including simulated B-1 long-range bomber missions and large-scale amphibious assaults. Moscow has repeatedly called on both sides to tone down the rhetoric and avoid saber-rattling which could end up leading to a global war.
You can share this story on social media: