'North Koreans are great people' – Trump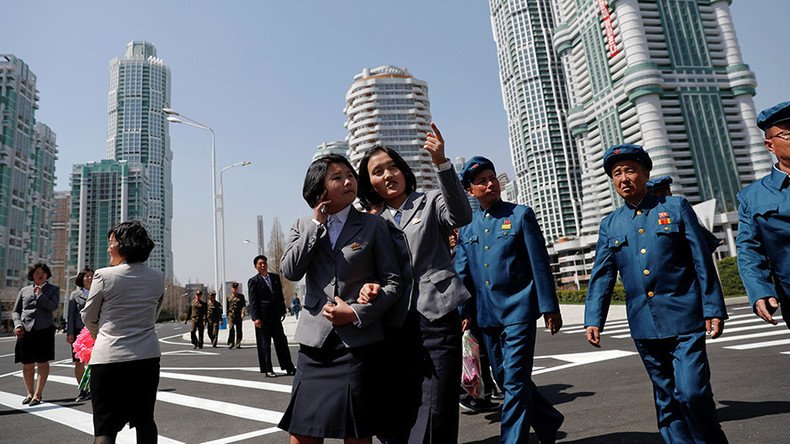 US President Donald Trump praised the "industrious" North Korean people before landing in Japan, where he warned the world against challenging America's military dominance.
Trump touched down in Japan on Sunday, the first stop on his 12-day Asian tour, during which he is set to drum up support for his hardline policy towards Pyongyang. While still on board Air Force One, Trump hinted that North Korea could be put on the list of state sponsors of terrorism in the near future.
"We're going to make this decision very soon," he said. Currently, there are only three countries – Iran, Sudan and Syria – designated under US law as state sponsors of terrorism for "having repeatedly provided support for acts of international terrorism." Inclusion on the list, last updated in 1993, means additional sanctions against the targeted country.
North Korea might be "a big problem for our country and the world," but its citizens, according to Trump, are "great people."
"They're warm, much warmer than the world really knows or understands. They're great people. And I hope it all works out for everybody," Trump said.
Trump's pep talk after his landing at Yokota Air Base, however, was much more belligerent. Wearing a leather pilot jacket, he addressed Japanese and American servicemen with a thinly-veiled threat to anyone daring to question America dominance. "No dictator, no regime, no nation should ever underestimate American resolve," he said.
"Every once in a while in the past, they underestimated us. It was not pleasant for them, was it? We will never yield, never waver and never falter in defense of our people, our freedom and our great American flag," he said, without referring to any country in particular. "We dominate the sky, we dominate the sea, we dominate the land and space."
On his trip to Asia, the longest for an American president in over two decades, Trump will also visit Vietnam, China, the Philippines, and South Korea. In Vietnam, he is scheduled to attend the Asia-Pacific Economic Cooperation (APEC) summit and meet Russian President Vladimir Putin.
"I think it's expected that we will meet," Trump said. "We want Putin's help on North Korea."
Donald Trump has not pulled punches regarding North Korea in the past. He has repeatedly expressed his willingness to respond militarily if necessary. In September, he warned that the US might resort to using its nuclear arsenal against North Korea. He has also said that the US "will have no choice but to totally destroy North Korea" if it attacks the US or its allies.
READ MORE: Trump: US may have no choice but to 'totally destroy' North Korea
The US has also repeatedly shown off its military might with regional allies South Korea and Japan, deploying strategic bombers, fighter jets, and ballistic missile submarines for drills, which Pyongyang considers provocative.
You can share this story on social media: