'Putin is very important': Trump on possible meeting with Russian leader at APEC summit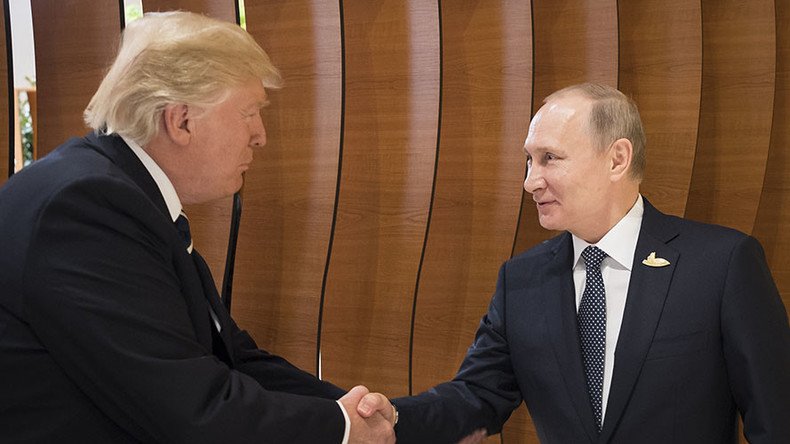 US President Donald Trump says he might meet with Russian president Vladimir Putin during his 12-day Asia tour, calling him "very important." The meeting would come amid the ongoing Congressional probes into alleged Russian meddling in US elections.
Asked by Fox News host Laura Ingraham on The Ingraham Angle whether the US president will speak with Putin on the trip, Trump enthusiastically replied: "We may have a meeting with Putin."
"And, again – Putin is very important because they can help us with North Korea. They can help us with Syria. We have to talk about Ukraine," Trump added.
Trump is set to travel to Vietnam, China, Japan, the Philippines and South Korea as part of his 11-day voyage to Asia, the longest trip to Asia by an American president in over two decades. The US leader is set to attend the Asia-Pacific Economic Cooperation (APEC) summit in Danang, Vietnam next week. He will also make a state visit to Hanoi, ending his trip with the Association of South East Asia Nations summit in Manila, the Philippines.
Kremlin spokesperson Dmitry Peskov told reporters on Friday he could not "exclude the possibility of holding such a meeting, and it is actually being coordinated now." As soon as all details are clarified, a corresponding announcement will be made, he added.
The Russian president's spokesman said the importance and significance of any potential contact between the presidents of Russia and the United States "for all international affairs can hardly be overestimated."
Earlier Peskov told reporters that Putin's bilateral meetings schedule at the APEC summit is being finalized.
Trump said in August that relations between the US and Russia are at an all-time, very dangerous low, tweeting that the Americans should blame Congress for this disappointing turn of events.
Our relationship with Russia is at an all-time & very dangerous low. You can thank Congress, the same people that can't even give us HCare!

— Donald J. Trump (@realDonaldTrump) 3 августа 2017 г.
On Thursday, Trump called the ongoing Congress investigation into alleged collusion with Russia during the election "a disgrace." Democrats and Republicans in the Senate and the House had to admit that there is "no collusion," but continue to look for it nevertheless, Trump noted during his interview with Howie Carr at the White House. "There's no collusion but we'll continue to look, there's smoke, there's no collusion but there's — and the Republicans are coming out just saying, 'There's just no collusion,'" he said.
READ MORE: Trump says Russia probe a disgrace, many ads 'bad' for him
Trump and Putin held their first-ever meeting on the sidelines of G20 summit in Hamburg in July. The meeting, initially scheduled for 30 minutes, lasted for over two hours as the two leaders discussed Ukraine and Syria, making what Moscow called a breakthrough on Syrian peace initiatives.
Putin said the bilateral meeting helped establish personal contact, noting that "the Trump we see on TV is very much different from the real person."
You can share this story on social media: