At least 12 killed in Bronx apartment fire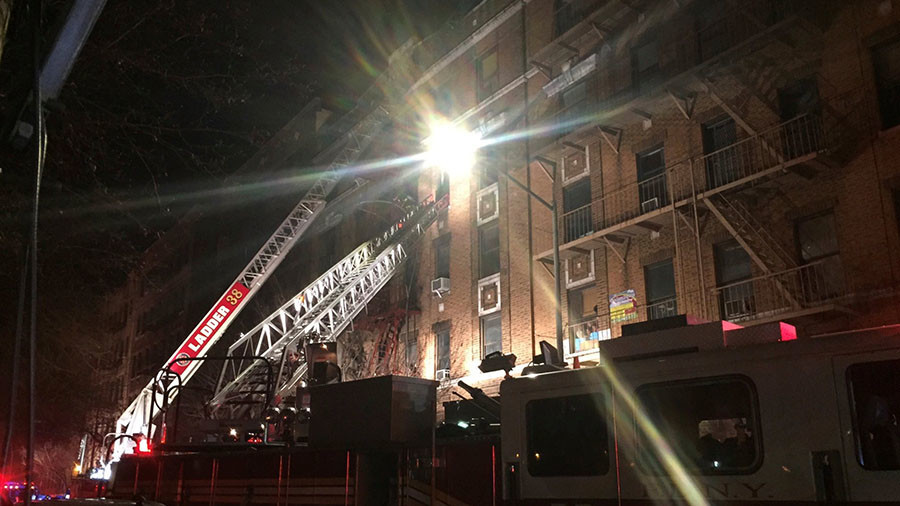 Over 160 New York firefighters have knocked down a 5-alarm blaze inside a Bronx apartment that has left at least 12 people dead and many more seriously injured.
The fire started before 7:00pm Thursday on Prospect Avenue near East 187th Street on the third floor of a five-story building, WABC reported.
New York City Mayor Bill de Blasio arrived on the scene for a briefing, where it was confirmed that one of the 12 dead is a 1-year-old child. Four other people are in critical condition. Two people suffered other injuries.
"This will rank as one of the worst losses of life to a fire in many, many years," de Blasio said, adding that 12 people were rescued and will survive.
The fire, which spread floor by floor, came under control within hours. FDNY initially reported 15 serious injuries, and local media has reported at least 12 critically injured. Victims have been transported to Jacobi Medical Center and St. Barnabas Hospital.
People of all ages were seen fleeing the flames. With no time to spare, some people escaped without any shoes on, as the temperature dipped below 15 degrees Fahrenheit.
The cause of the fire remains unknown.
During a late Thursday press conference, FDNY Commissioner Daniel Nigro described the fire as "historic in its magnitude,"WNBC reported. The largest city in the US had not experienced such a deadly fire since 1990, when an arson fire in the Bronx killed 87 people were killed at the Happy Land social club.
You can share this story on social media: