Abstained or absent during UN rebuke of US Jerusalem move? Come party with Nikki Haley!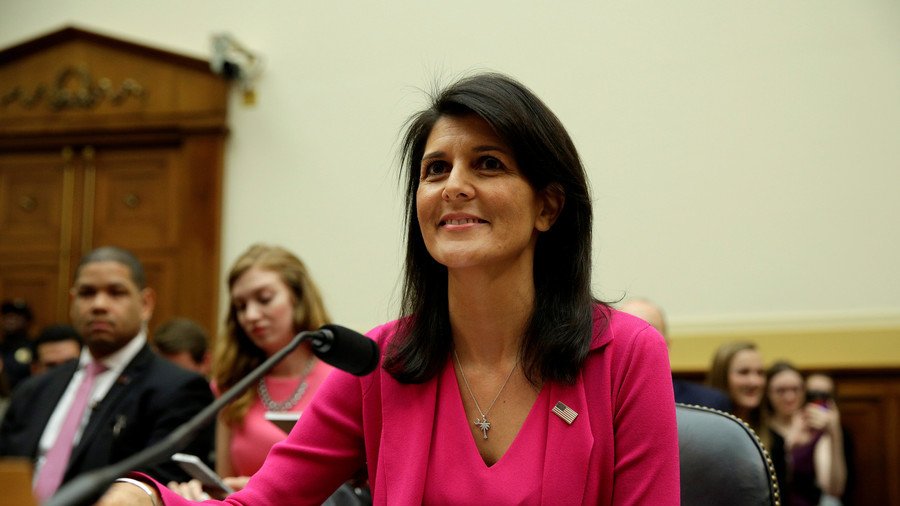 The 64 nations that voted 'no,' abstained, or were not present during the UN General Assembly's diplomatic spanking of Washington's Jerusalem move will get a "thank you" reception from US envoy Nikki Haley.
Tweeting after the vote, Haley wrote that "we appreciate these countries for not falling to the irresponsible ways of the UN."
On Thursday, the UN General Assembly voted overwhelming in favor of a non-binding resolution declaring US recognition of Jerusalem as Israel's capital "null and void."
Before the vote, Haley sent letters to over 180 countries, warning that Washington would be "taking names" of those who dared to defy its globally-condemned recognition of Jerusalem as Israel's capital. US President Donald Trump went one step further, hinting that disobedient nations would have their US aid slashed. "Let them vote against us. We'll save a lot. We don't care," said Trump before the vote.
Unmoved by Haley's name-taking and Trump's casual extortion, 128 nations voted in favor of the resolution. However, much to Haley's delight, eight nations (apart from the United States) voted no, 35 abstained and 21 were absent.
Haley later sent out invitations to ambassadors of the countries which did not approve of the UN resolution to a reception on January 3 to thank them for their friendship with the United States, US media reported publishing screen-shots of the invitations.
The VIP guest list will include Israel, Guatemala, Honduras, Micronesia, Nauru, Palau, the Marshall Islands and Togo – the countries that voted no. Australia, Argentina, Canada, Colombia, Croatia, Czech Republic, Georgia, Mexico and Ukraine are among the abstaining or absent potential party-goers.
You can share this story on social media: