The talented Ms. Haley: UN envoy sets bar for US diplomacy dangerously low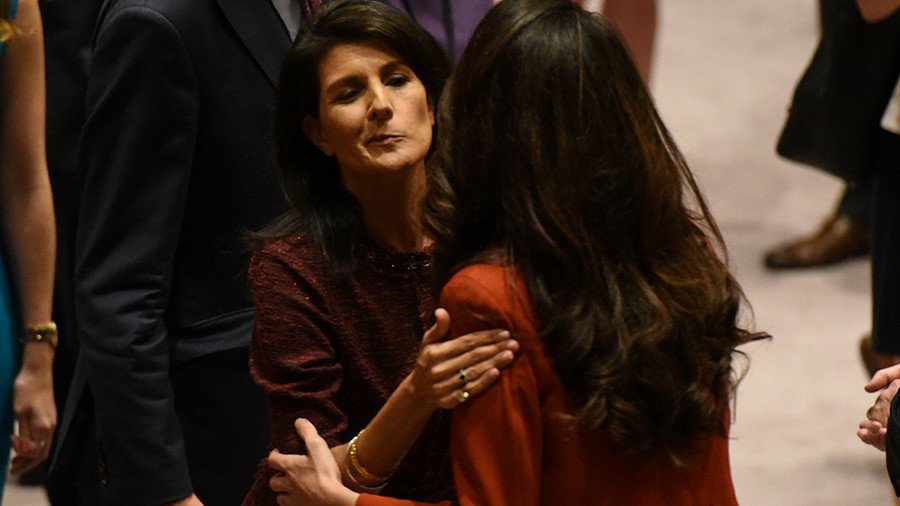 Since taking the reins in January, US Ambassador to the UN Nikki Haley has excelled at drumming up controversy in the form of impassioned speeches, occasionally heavy on visual aids, but invariably light on substance.
The former South Carolina governor, with very little experience in international diplomacy, vowed upon receiving her ambassadorship in January to protect Israel from international bullying – a rather peculiar promise from a diplomat presumably representing American interests.
Most recently, Haley has warned that she is "taking names" ahead of a General Assembly debate on Washington's internationally-condemned recognition of Jerusalem as Israel's capital. According to Haaretz, Haley has even gone so far as to send letters to representatives of UN member-states, warning them against supporting a resolution rejecting the US decision.
Whether she's invoking the charred carcass of an unidentified missile to accuse Iran of treachery, or blaming North Korea for ruining her Independence Day barbecue, Haley's diplomatic prowess is… something else.
Houthi missile with 'American-made component' supplied by Iran?
In a show-and-tell performance reminiscent of Colin Powell's Iraqi anthrax vial, Haley told a crowd at the headquarters of the Defense Intelligence Agency last week that the US had obtained "undeniable" evidence that Iran supplied Houthi rebels with missiles and other arms. Standing in front of the charred remains of a short-range ballistic intercepted by Saudi Arabia on November 4, Haley said:
...the Iranian regime cannot be allowed to engage in its lawless behavior any longer... the fight against Iranian aggression is the world's fight.
But a UN panel of experts which reviewed missile fragments from the alleged attack concluded it "has no evidence as to the identity of the broker or supplier." In its confidential report, obtained by Foreign Policy magazine, the panel identified a tail component that bore the logo of an Iranian company. However, the panel also reported that the missile contained "an American-made component."
And while Haley seems to be comfortable accusing Iran of "lawless behavior," she's remained silent about the Saudi-led military campaign in Yemen, which has resulted in one of the world's worst humanitarian disasters.
Sky 'hasn't fallen' after Trump's Jerusalem move
Haley also casually brushed aside the growing discontent among Washington's European and Arab allies, all of whom are lockstep-opposed to the US moving its embassy to Jerusalem. Haley told CNN's 'State of the Union' program:
When the president made this comment [recognizing Jerusalem as Israel's capital] on Wednesday, everybody said the sky was going to fall. So Thursday, Friday, Saturday, Sunday, the sky's still up there. It hasn't fallen.
Earlier, she claimed that the United States is the only fair and honest peace broker in the Israeli-Palestinian conflict – a remarkable act of panache accentuated by a recent 14-1 Security Council vote condemning the US decision as counterintuitive to reaching a peace settlement. Undeterred, Haley said that the United States would not be "lectured" to by countries that lack credibility "when it comes to treating both Israelis and Palestinians fairly." (The United States gave Israel more than $3 billion in foreign aid last year, compared to an estimated $350 million in financial assistance to the Palestinian Authority.)
North Korea ruined her Fourth of July
It looks like North Korea is indeed a villain and in blatant violation of all diplomatic conventions, after it deprived Haley of her right to eat hot dogs on July 4.
Haley tweeted on July 4 that she was spending the holiday "in meetings all day. #ThanksNorthKorea."
The tweet didn't sit well with some in the Twitterverse, however.
'Fake diplomacy'
During deliberations over an investigation into alleged chemical weapon attacks in Syria, Haley lamented that she spent hours trying to reach her Russian counterpart, Vasily Nebenzya, to no avail.
For some reason, the phone of the Russian mission doesn't work...We tried reaching them, but this week they were too busy to talk to us. And when I tried to call Vasily, for some reason he was not available.
After Nebenzya said there was not a single missed call on his phone, Russian Foreign Minister Sergey Lavrov joked of Haley's words, saying that "it seems we are witnessing a new phenomenon in international relations. Now there's not only 'fake news' to deal with, but also 'fake diplomacy.'"
You can share this story on social media: