US makes large contributions to UN, expects to be respected – Haley to UNGA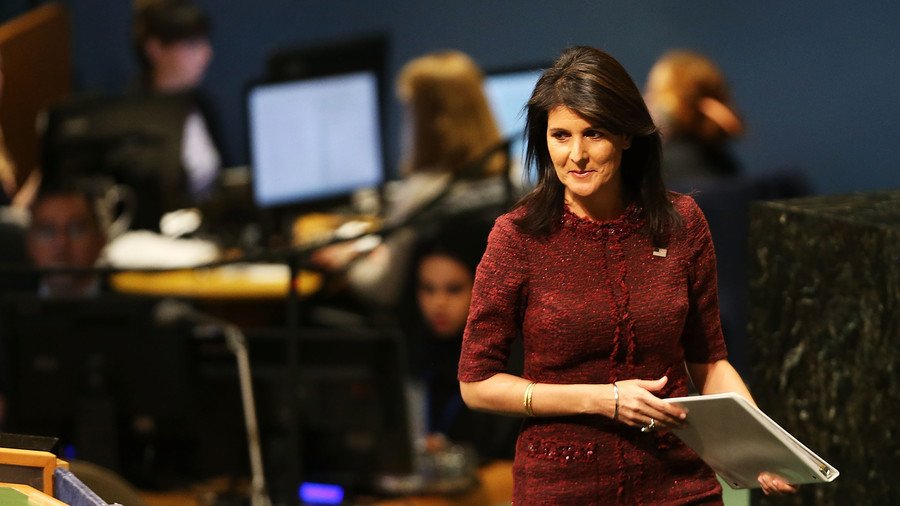 As the biggest contributor to the UN, the United States expects respect for its decisions, US envoy Nikki Haley has said, adding that Washington will remember the day it was "singled out" for an attack.
Haley was speaking ahead of the UN vote on the status of Jerusalem, in a desperate last attempt to swing the tide in Washington's favor.
"When we make a generous contributions to the UN, we also have a legitimate expectation that our goodwill is recognized and respected," Haley said.
The outcome of vote would not affect the US decision on Jerusalem, which reflects the will of the American people and is not negotiable, Haley emphasized. What will be affected is Washington's attitude towards the UN, the envoy warned.
"The United States will remember this day in which it was singled out for attack in the General Assembly for the very act of exercising our right as a sovereign nation," Haley told the UNGA session. "We will remember it when we are called upon to once again make the world's largest contribution to the United Nations, and so many countries come calling on us, as they so often do, to pay even more and to use our influence for their benefit."
Haley's threat of cutting aid did not stop 128 nations from voting in favor of the UNGA resolution calling for the US to reverse its recognition of Jerusalem as Israel's capital.
Still, some may have been convinced by the US envoy's arguments. Apart from the US and Israel, seven more nations said 'no' to the motion, while 35 chose to abstain.
The overall outcome of the vote showed "dignity and sovereignty are not for sale," said Turkey's foreign minister Mevlut Cavusoglu.
Iran said the vote meant a global "NO" to US intimidation.
"A resounding global NO to Trump regime's thuggish intimidation at UN," Iranian foreign minister Mohammad Javad Zarif said on Twitter.
The US issued a series of threats leading up to the UNGA vote, with Haley saying that Washington will be "taking names" of countries who vote against its decision, and Trump promising to cut aid to those who opposed Washington.
You can share this story on social media: