'Known limitations' hold Trump back from doing what he'd like to – Putin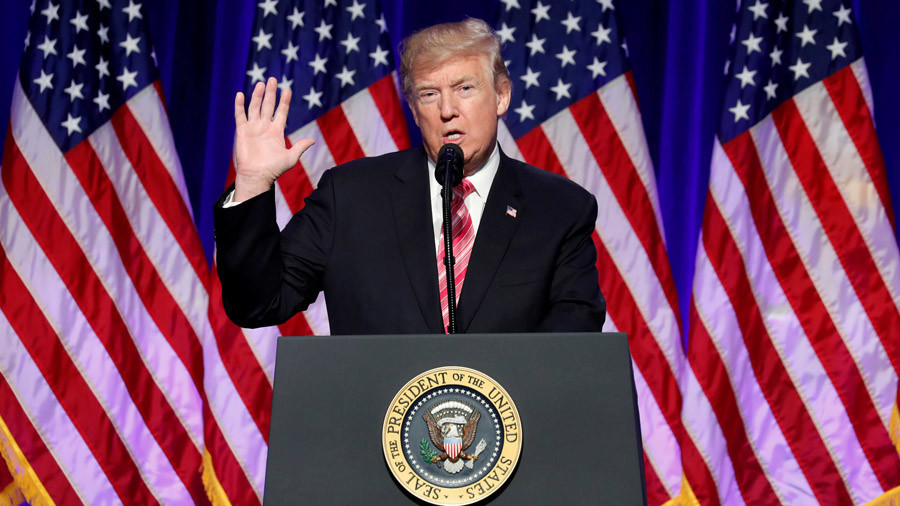 The US President Donald Trump would like to change certain things, including relationships between Moscow and Washington, Vladimir Putin said, during his annual Q&A session. However, the Russian President pointed out, "known limitations" obstruct the US leader from doing so.
"There are things [Donald Trump] would like to do, but so far couldn't, meaning healthcare reform and several other issues. He's spoken about improving relations with Russia. It is obvious, that even if he wanted it, he is unable to, due to known limitations," the president said Thursday.
"I don't know whether [Trump] still wishes [to improve relations with Russia] or whether this desire is completely exhausted," Putin continued. "I hope that he does and, after all, [I trust that, in] the interests of the American and Russian people, we will eventually normalize our relations, develop them and will fight common threats."
"These are well-known: terrorism, solving ecological issues, battling against proliferation of weapons of mass-destruction, overcoming crises in different regions, including the Middle East and the North Korean problem," the Russian president said.
When asked to assess Trump's work after nearly a year in office, Putin said it wasn't up to him to evaluate. "That needs to be done by the voters, the American people," he said. But Trump still has reached some of his goals, Putin believes. "We objectively see some quite significant achievements, given that short period of time [Donald Trump] has been working. Look at how the markets have grown. It indicates investors' trust in the American economy."
President Putin also spoke on the US crackdown on Russian media, regarding the US Department of Justice order to RT America to register as a "foreign agent" under the Foreign Agents Registration Act (FARA).
READ MORE: RT files for registration as 'foreign agent' in US facing ultimatum from Washington
"Their [RT's and Sputnik's] share in total amount of information is miserable compared to what American global media does across the world and in Russia. Yet it seems to be a threat [to Washington]. But where is the freedom of information, one of the cornerstones of American democracy?"
Following the DoJ's move, RT filed as a foreign agent before the deadline, then a congressional committee stripped the channel of its accreditation on Capitol Hill, sparking criticism from Moscow. In response, Russian lawmakers produced a bill that required foreign-funded media outlets to register as foreign agents.
READ MORE: Russia lists 9 media outlets as foreign agents, including Voice of America, Radio Liberty
You can share this story on social media: