Roy Moore supporters co-opt 'DearAlabama' social media campaign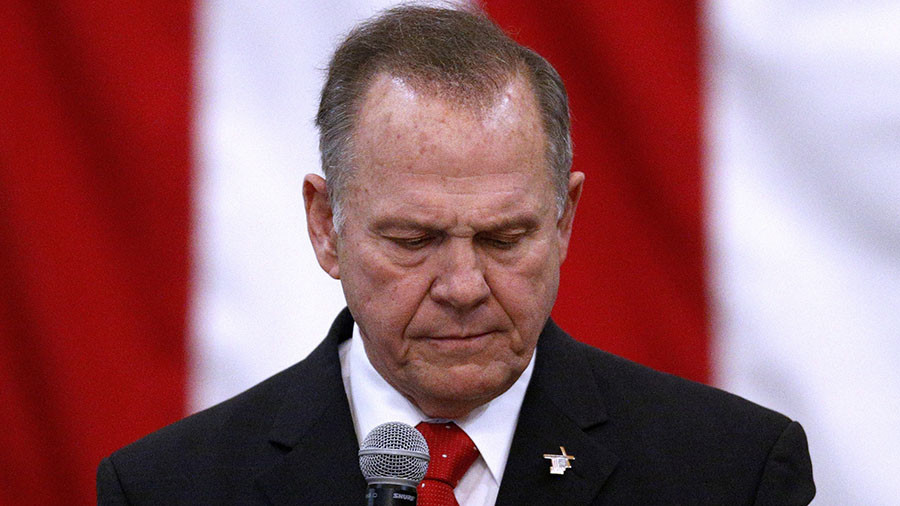 'DearAlabama' is the top trend on US twitter, with an avalanche of posts calling for people to vote against – and for – the Republican candidate Roy Moore in the special Senate election.
Alabama voters will choose a candidate on Tuesday to fill the Senate seat vacated by Attorney General Jeff Sessions.
Vying for the seat is Roy Moore, a 70-year-old Republican who was twice ousted as state Supreme Court chief justice after flouting federal law, and has been accused of sexual misconduct with teenage girls when he was in his 30s.
The other candidate is Democrat Doug Jones, 63, a former US attorney best known for prosecuting two Ku Klux Klan members for killing four black girls in a 1963 Birmingham church bombing.
Ordinarily, the battle for the seat wouldn't attract much attention, as Alabama voters haven't had a Democratic senator since 1992. However, with Republicans having a slim majority in the Senate of 52 to 48, voters are hearing from President Donald Trump in support of Moore, and his Democratic predecessor Barack Obama weighing in with last-minute robocalls to try and sway voters.
The 'DearAlabama' began as a campaign critical of Moore on social media:
Dear Alabama, I hope you take a quick minute to watch this video of a father, I hope you feel his pain, take his advice, & reject the bigotry being peddled by Roy Moore.pic.twitter.com/Mk7y6YTqH8

— Simar (@sahluwal) December 12, 2017
Dear Alabama,You don't know me. I'm just some guy in Minnesota. We have different beliefs, concerns & values.But we have 1 thing in common - a shared belief that child molesters do not belong in Congress.Right?Please vote today. For Doug Jones.

— Bryce Tache (@brycetache) December 12, 2017
Dear Alabama: You are a state that gave America the Civil Rights Movement, Tuskegee University, Helen Keller, Hank Aaron, and the music of Muscle Shoals. Please do not give us a racist, sexist, homophobic, and lying child molester as a U.S. Senator.

— Kevin Powell (@kevin_powell) December 12, 2017
It was quickly co-opted by supporters of the Republican candidate, however.
Dear Alabama,Please, please, please vote for Judge Roy Moore. He is a good man smeared by Washington DC elites and New York liberals.

— Al Gorelioni (@Al_Gorelioni) December 12, 2017
Dear Alabama,If you want to make this country great again, vote for Roy Moore.Don't let the lying, slandering, corrupt, fake Democrats smear someone for something they didn't do.Vote Moore!

— Collin Rugg (@CollinRugg) December 12, 2017