'We won't welcome Mike Pence' - Snr Palestinian official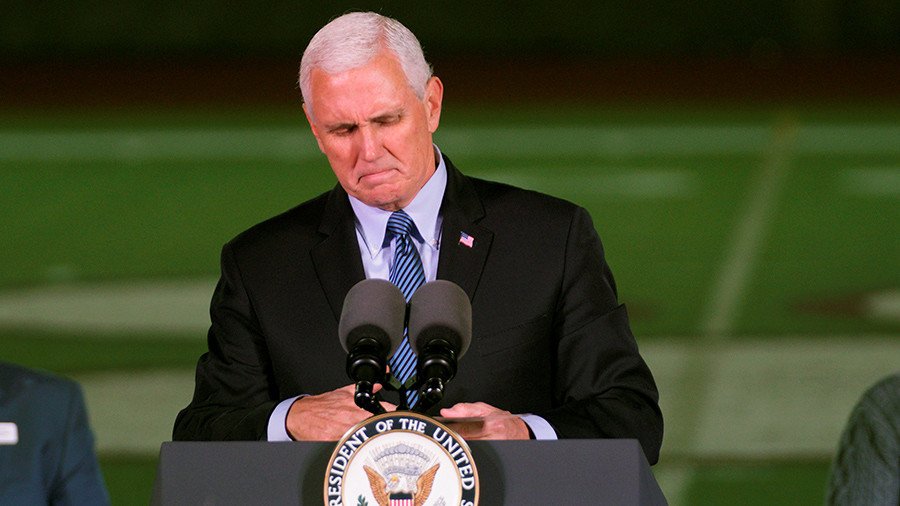 The US vice president is unwelcome in Palestine, a senior official of the Palestinian Fatah Party has declared in response to Washington's decision to recognize Jerusalem as Israel's capital. Pence had been scheduled to visit the region later this month.
"In the name of Fatah I say that we will not welcome Trump's deputy in the Palestinian Territories. He asked to meet [Mahmoud Abbas] on the 19th of this month in Bethlehem, such a meeting will not take place," Jibril Rajou, the secretary-general of Fatah, said. The party is headed by Palestinian leader Mahmoud Abbas.
Mike Pence's visit had been scheduled for December 17-19, the Jerusalem Post reports, citing the Foreign Ministry.
Speaking to the Christian Broadcast Network on Saturday, Pence said his planned visit means Washington would "reaffirm [its] commitment to peace in the region. The president has made it clear that we want peace but people should know that President Donald Trump will never compromise the safety and security of the Jewish state of Israel in the midst of that process."
One of Egypt's most influential Muslim leaders, the Imam of the Al Azhar mosque, has also threatened to cancel a meeting with US Vice President Mike Pence. Sheikh Ahmed al-Tayeb and Pence were to get together in Cairo on December 20, but the cleric now says that the meeting will only take place if Trump reverses his decision to recognize Jerusalem as the Israeli capital.
Tensions are running high in the region after Trump officially announced his decision to recognize Jerusalem as the capital of Israel, where he plans to relocate the US Embassy. The president admitted the move would cause dissent, but said, without elaborating, that it could help resolve the Arab-Israeli conflict.
Abbas was among the first to condemn Washington's decision, saying that Jerusalem remains the "eternal capital" of Palestine. "These deplorable and unacceptable measures deliberately undermine all peace efforts, and proclaim that the US are abandoning the role of sponsor of [the] peace process that they have played over the past decade," Abbas said in a televised speech on Wednesday.
A number of world powers, including Russia, Germany, France and Turkey have expressed grave concern over Washington's decision.
You can share this story on social media: