Arab League urges US to reverse 'Jerusalem move' amid global backlash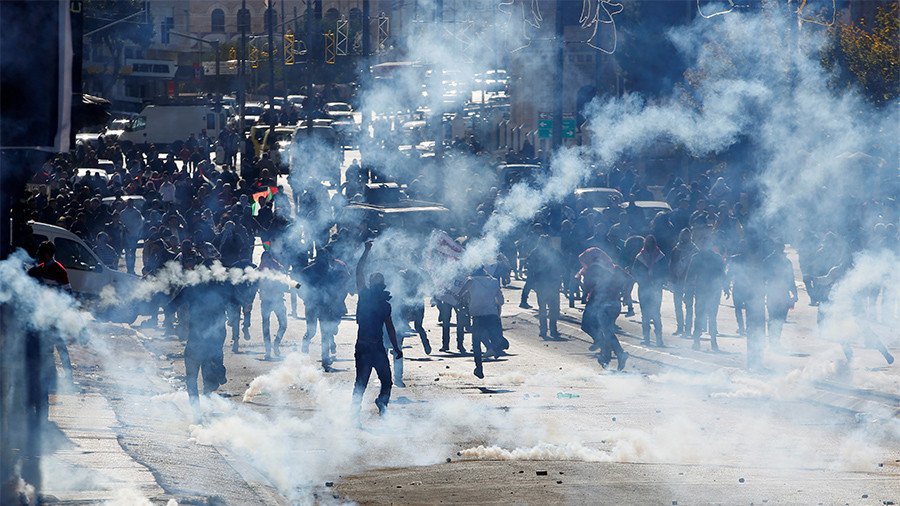 10 December 2017

02:39 GMT

Hundreds of demonstrators took to Market Street in San Francisco on Saturday to denounce US President Donald Trump's decision.

02:03 GMT

The League of Arab Nations has refused to accept Trump's recognition of Jerusalem as the Israeli capital.

"The decision has no legal effect... It deepens tension, ignites anger and threatens to plunge the region into more violence and chaos," the Arab League said in its final declaration after convening an emergency meeting Sunday in Cairo.

Potential economic sanctions against the US, earlier suggested by Lebanon, were not referenced in the document, according to Reuters.

01:43 GMT

A group of masked youths have attacked a synagogue in Gothenburg, Sweden, with Molotov cocktails, amid a global backlash against the US decision to recognize Jerusalem as the capital of Israel. No one was hurt in the incident, local media report.

09 December 2017

22:47 GMT

14:29 GMT

The North Korean Foreign Ministry has called US President Donald Trump "a dotard" over his decision to recognize Jerusalem as the capital of Israel. A spokesperson for the ministry repeated the insult made famous by North Korean leader Kim Jong-un in a statement released to the state-run KCNA news agency Saturday.

"This decision of the U.S. is not so surprising as it came from a dotard who had cried out for 'total destruction' of a sovereign state [North Korea] at a sacred UN forum," the statement read. "But, through it, the world will be able to well discern about who is really a wrecker of the world peace and security and who is a gang of hooligans of the international society."

The spokesperson also said the Jerusalem decision is a "reckless and high-handed act" deserving of "global condemnation and rejection."

Kim Jong-un first called Trump a "mentally deranged US dotard" in response to the president's vow to destroy North Korea in a speech to the United Nations in September.

14:02 GMT

Over 1,000 Palestinians were involved in demonstrations, including 600 people in the West Bank and 450 in Gaza, the Israel Defense Forces (IDF) said.

13:59 GMT

Palestinian protests played out at around 20 locations in the West Bank, including the towns of Bethlehem, Ramallah and Tulkarm, according to the IDF.

13:53 GMT

Some 13 protestors were arrested for throwing stones and physically assaulting officers in East Jerusalem, Israeli police said. Four policemen suffered light wounds during the clashes in the city, it added.

13:40 GMT

Around a hundred Palestinians were injured in clashes with Israeli police and military Saturday, Red Crescent spokesman Erab Fuqaha told RIA Novosti. "60 Palestinians were wounded in skirmishes in Jerusalem and 32 others in the Gaza Strip," Fuqaha said. Earlier the Red Crescent, said those who were wounded "suffocated from (tear) gas and were hit with rubber bullets."

13:26 GMT

The protests in East Jerusalem, which lasted for last six hours, have concluded. The Palestinian crowd has been dispersed and traffic on Salah ad Din Street has returned to normal.