Jerusalem is the 'eternal capital of the state of Palestine' – Palestine leader Abbas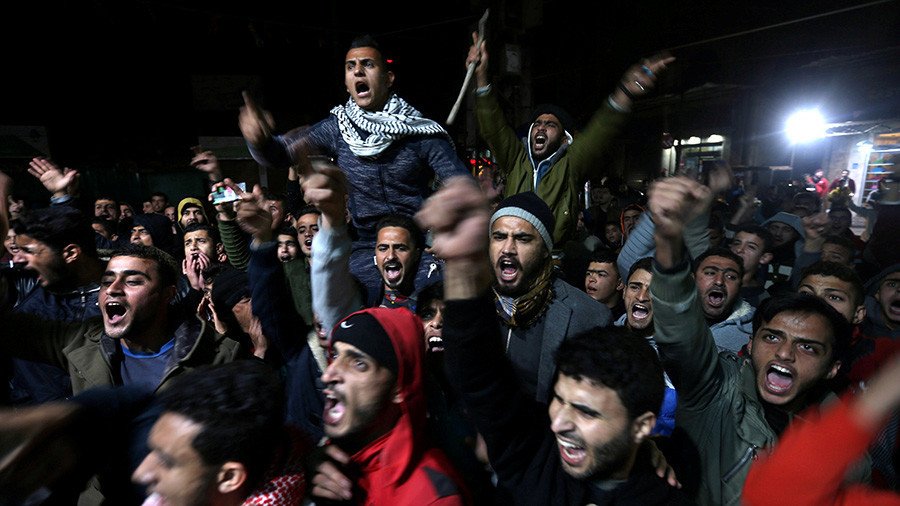 Mahmoud Abbas has condemned Washington's decision to recognize Jerusalem as Israel's capital. He said it negates the US' right to be a mediator in the Israeli-Palestinian conflict, while stating that Jerusalem remains the "eternal capital" of Palestine.
Abbas firmly rejected Donald Trump's declaration and said Jerusalem is the "eternal capital of the state of Palestine." Washington's hostile move effectively nullifies its right to be a peace broker in the Arab-Israeli conflict, Abbas underlined.
"These deplorable and unacceptable measures deliberately undermine all peace efforts, and proclaim that the US are abandoning the role of sponsor of [the] peace process that they have played over the past decade," Abbas said in a televised speech.
READ MORE: Trump formally recognizes Jerusalem capital of Israel
The US move not only jeopardizes the Israeli-Palestinian peace process, but would also lead to "endless wars of international scale," Abbas warned. The recognition of Jerusalem as Israel's capital would also play into the hands of terrorist organizations who are seeking excuses to wage religious wars, the Palestinian leader further cautioned.
Hamas, which controls the Gaza strip, also condemned Trump's decision, warning that it "opens the gates of hell on US interests in the region." The Islamist movement added that the US declaration would not change the status of the Holy City.
"Trump's decision on Jerusalem will not succeed in changing the fact that Jerusalem is an Arab Muslim land," a Hamas spokesperson said, as quoted by AFP. Hamas has called for mass protests, announcing Friday as a "day of rage."
Ahead of Trump's announcement, Hamas leader Ismail Haniyeh said an interview with Al Jazeera that the Palestinians "know how to respond properly to the disregard of their feelings and sanctuaries."
While it "will not change the facts of history and geography," Haniyeh stated, it would trigger an angry response from Palestinians, who "can launch one intifada [uprising] after another." Haniyeh added that he was in touch with Abbas,the leader of Fatah and President of the Palestinian authority to discuss the developments and a joint response. The two leaders agreed to mobilize Palestinians to oppose the US decision.
While there have been sporadic demonstrations across the Palestinian territories after the US announcement, the major protests are expected to kick in tomorrow.
"There has been minor clashes throughout the West Bank and in fact we've heard that there has been some demonstrations in East Jerusalem. But tomorrow in East Jerusalem, as well as in the other parts of West Bank and Gaza, there will be a general strike and calls for "day of rage" tomorrow and Friday," a correspondent for I24 News Mohammad Al-Kassim told RT.
You can share this story on social media: