Lilac Fire: State of emergency declared in San Diego as yet another CA inferno burns homes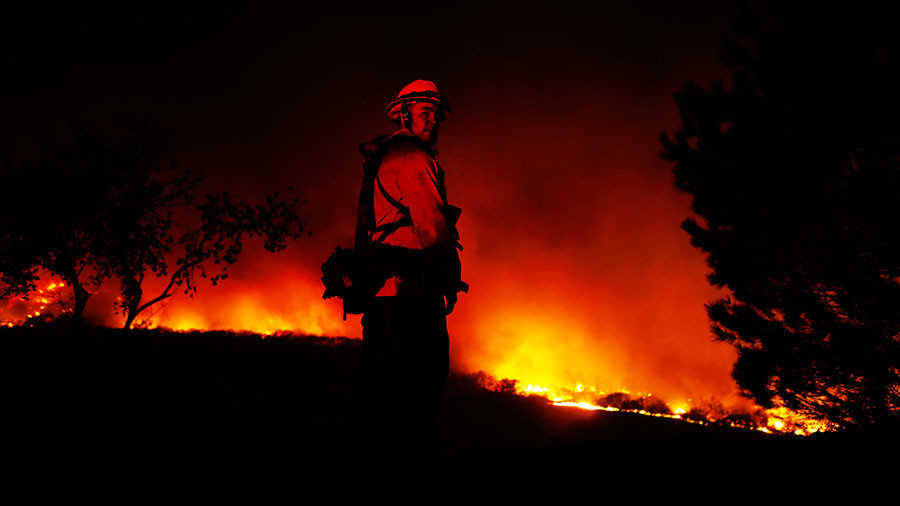 The Lilac Fire in San Diego North County has burned two people, charred 2,500 acres and destroyed 20 structures. The blaze erupted after several other fires raged throughout Southern California and even into West Los Angeles.
Lilac Fire
The Lilac Fire was first reported at 11:20am Thursday on the southbound Interstate-15 freeway, near the connector to the State Route 76 freeway in North County, about 45 miles northeast of San Diego. State Route 76 has since been closed to traffic, according to KNSD.
The fire prompted California Governor Jerry Brown (D) to declare a state of emergency in San Diego County. The National Weather Service (NWS) said a wildfire risk in San Diego County is extreme Thursday, due to dry vegetation and Santa Ana conditions.
Humidity was in the range of 5-15 percent, and any new fires will have a high probability of becoming big in a short period of time, according to the US Forest Service, KNSD reported.
A fire warning is also in effect until 8pm Saturday, which means that any fires that develop, will spread at a quick pace. A high wind warning is also in effect until 4pm Friday. Wind gusts were recorded in the area coming from a northeast direction, and clocked in at as high as 51 mph on State Route 76.
Thomas Fire
The Thomas Fire in Ventura County, which is about 75 miles northwest of the city of Los Angeles, began Monday evening in the city of Santa Paula, and is 5 percent contained as of Thursday. The blaze has now charred at least 115,000 acres of land, KABC reported.
Four hundred and twenty seven structures have been destroyed in the city of Ventura. Eighty five other structures were also damaged, according to CalFire, KABC reported.
READ MORE: Raging California wildfires captured on camera from space (PHOTOS)
More than 2,500 firefighters from different agencies were battling the blaze, which has since spread in the direction of the cities of Ojai and Ventura, due to powerful Santa Ana winds. Mandatory evacuations were issued for the county's Faria Beach, along with parts of the city of Carpinteria Thursday, and there have been no reported fatalities, according to KABC.
A total of 300 residents from Carpinteria began evacuating the area Thursday due to orders from the Santa Barbara County Sheriff's Office, according to a news release, KABC reported.
The NWS has issued a Red Flag warning for most of Los Angeles and Ventura Counties through Sunday, due to gusty winds from the northeast and low relative humidity.
The NWS issues Red Flag warnings "to alert fire departments of the onset, or possible onset, of critical weather and dry conditions that could lead to rapid or dramatic increases in wildfire activity," according to CalFire.
Creek Fire
The Creek Fire started Tuesday morning and is burning in and near the Sylmar and Tujunga neighborhoods in Los Angeles County, about 30 miles north of the city of Los Angeles. It has scorched more than 12,600 acres, while seven firefighters have suffered non-life-threatening injuries, according to KABC.
The blaze was reported at 10 percent containment Thursday morning, doubling the level of containment from just a day earlier.
Approximately 99,000 residents were evacuated due to the flames. At least 15 structures were destroyed and 15 others were damaged. Los Angeles Mayor Eric Garcetti stated that almost 1,700 firefighters are fighting the fire, according to KABC.
The Los Angeles Fire Department will now use drones to assess properties in the area and to look for hot spots. Firefighters will then be dispatched to put those fires out, officials announced at a briefing Thursday morning, KABC reported.
Skirball Fire
The 475-acre Skirball Fire was first reported at 5am Wednesday near the Skirball Cultural Center and the Getty Center, about 16 miles from Downtown Los Angeles. On Thursday, the blaze was 20 percent contained. That is up from five percent containment Wednesday, according to KABC.
The fire prompted mandatory evacuation orders for an area in nearby Bel Air. At least four houses were destroyed, while 12 others were damaged, according to the LAFD, KABC reported.
As of 8 pm Thursday residents in portions of Bel Air were allowed to return to their homes, as firefighters have achieved more progress in containing the blaze, according to the Los Angeles police, KABC reported.
Between 400 and 600 firefighters from 52 units were battling the blaze Thursday. Firefighters were supported by helicopters that were making water drops. Two fixed-wing aircraft were also deployed to help in the relief efforts, Los Angeles Mayor Eric Garcetti said, according to KABC.
Some 100,000 acres have been scorched by all the fires in the Southern California region so far.
You can share this story on social media: