'I'm a heterosexual': PA lawmaker accuses colleague of being gay for touching his arm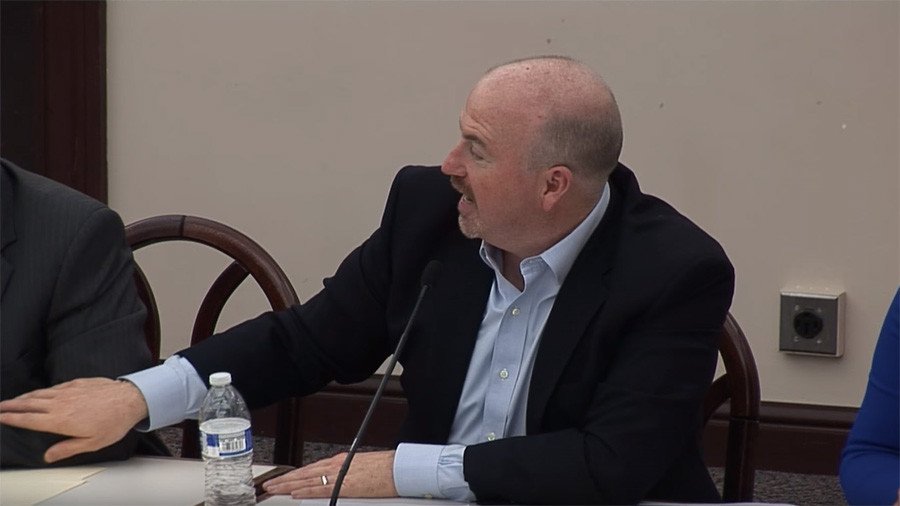 Democrats are calling for a state representative to step down as chairman of the House State Government Committee after they said he made "homophobic" remarks by accusing a colleague of being gay when he touched his arm at a meeting.
During a state government committee meeting in the Pennsylvania House of Representatives Tuesday night, lawmakers were in the middle of debating a land-use bill before everything came to a screeching halt when state Rep. Matthew Bradford (D-Montgomery) momentarily touched state Rep. Daryl Metcalfe's (R-Butler County) forearm.
"I'm a heterosexual. I have a wife, I love my wife. I don't like men, as you might," Metcalfe interrupted Bradford, who was sitting next to him. "But stop touching me all the time."
"It's like, keep your hands to yourself. Like, if you want to touch somebody, you have people on your side of the aisle that might like it. I don't," Metcalfe added.
"Okay, chairman, chairman, we're officially off the rails," a visibly stunned Bradford said, as other lawmakers tried to hide their laughter.
"My intent was just to beg for your permission for about 30 seconds," explained Bradford, who has a wife and four children according to his biography.
"Then beg. Don't touch," Metcalfe responded.
"I don't know where we go from here, really," Bradford said, before calling for a motion to postpone the debate until the next regularly scheduled meeting.
On Wednesday, Metcalf told reporters that Bradford had touched him "multiple times" in the past and he told him to stop "more than once."
"As a result of his inappropriate behavior, I thought I would use the microphone yesterday to expose it, shed some public light on it, and draw some attention to it," Metcalfe told PennLive.
Metcalf's plan worked, as the video quickly went viral, attracting more than 200,000 views in 24 hours, even though it was unlisted.
The Republican lawmaker added that Bradford's touching was "serious business," and he had "legal recourse to stop that physical contact in the future."
"You don't have the right to touch somebody else. A person has a right to their personal space. They have a right not to be touched if they've asked for that physical contact to stop," Metcalfe said.
When asked why he brought up his sexuality, Metcalfe said homosexuals bring up their sexuality "continually," and it is "supposed to be accepted in our culture that they can talk about their homosexualiyy all the time."
"I think it's really hypocritical for anybody to try to say that I didn't have a right to say that I was a heterosexual in the process of letting him know that I don't appreciate his touch," Metcalfe said.
Metcalfe further clarified that Bradford is "not the victim here."
"Matt Bradford is someone who has touched me repeatedly and he's been asked to stop," Metcalfe said, adding, "there should be consequences."
On Wednesday, Pennsylvania Governor Tom Wolf (D) called on Republican lawmakers to consider removing Metcalfe as the chairman of the committee.
"I urge House leadership to re-examine whether it is appropriate for him to continue controlling a committee that oversees civil rights legislation," Wolf said.
The governor added that Metcalfe's remarks were "offensive" and "discriminatory" and a "part of a disturbing pattern of behavior."
Rep. Metcalfe's comments yesterday were offensive & discriminatory. Unfortunately, this is part of a disturbing pattern of behavior. I urge House leadership to re-examine whether it is appropriate for him to continue controlling a committee that oversees civil rights legislation. https://t.co/x0gnXoTGag

— Governor Tom Wolf (@GovernorTomWolf) December 6, 2017
In response, Metcalfe said Wolf's comments were a "partisan attack."
"I think it should be offensive to everyone in this state, and they should really question whether or not this governor has any principles at all that he would stand on the side of a perpetrator," Metcalfe said, according to the Philadelphia Inquirer.
Metcalfe added that he would not step down and he does not think Republican leaders will remove him from his position.
"To try and label people as being sexist, homophobic, or racist, or whatever they want to use as their label… The fact is the majority of men in our culture will not want a man who they don't know touching them," Metcalfe added.
On Wednesday, the Pennsylvania Democratic Party also called for Metcalfe to resign, calling his remarks and past behavior "homophobic."
"Daryl Metcalfe is a walking, talking embarrassment to Pennsylvanians and doesn't deserve the honor of serving in public office," Brandon Cwalina, spokesperson for the Pennsylvania Democratic Party, said in a statement. "For years Metcalfe has taken policy positions based on bigoted misconceptions and fear of minority groups and the LGBT community, but today he has gone beyond the pale."
Rep. Brian Sims (D-Philadelphia), Pennsylvania's first openly gay legislator, took to Facebook in response to the video, calling Metcalfe's "the most homophobic, transphobic, racist, sexist, xenophobic member of our government."
On Wednesday, Bradford told reporters that Metcalfe's comments were "unpleasant, awkward and appalling."
"In this day and age, that's really inappropriate," Bradford said in an interview with TribLive.
You can share this story on social media: