Milo Yiannopoulos filmed singing 'America the Beautiful' while neo-Nazis salute him (VIDEO)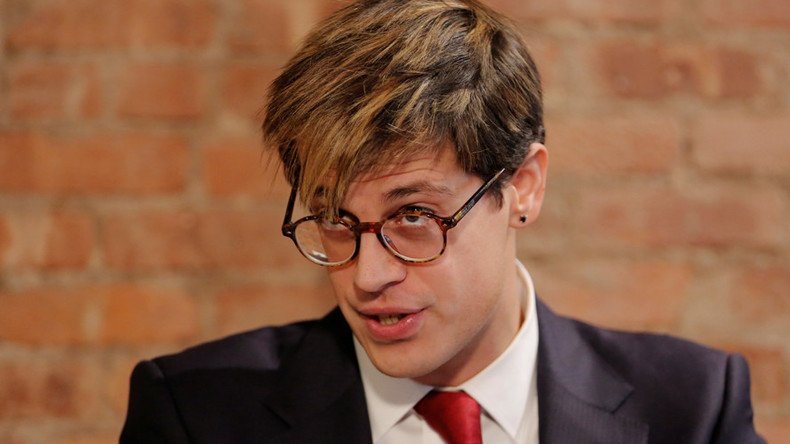 Footage has emerged of far-right provocateur Milo Yiannopoulos singing 'America the Beautiful' in a Texas karaoke bar as admirers, including known white supremacists, raise their arms in Nazi salute.
The video, filmed in Dallas in April last year and obtained by BuzzFeed, was released alongside leaked emails from 2015 that show how Steve Bannon, the former editor of Breitbart News, which staunchly backed Donald Trump's presidential campaign, allegedly used Yiannopoulos to court white supremacists and neo-Nazis for stories.
Soon-to-be White House chief strategist Bannon wrote to Yiannopoulos, the website's former tech editor, urging him to start a culture war with Islam and the left and "go help save western civilization."
Bannon wrote: "Dude---we r in a global existentialist war where our enemy EXISTS in social media . . . U should be OWNING this conversation because u r everything they hate!!!"
The emails also allegedly show Yiannopoulos asked for input from extremist figures when writing an article on the so-called 'alt-right.'
Those consulted are said to have included Andrew Auernheimer, a hacker who helps run the Daily Stormer, a neo-Nazi website, and Curtis Yarvin, a writer who has argued that black people have lower IQs than white people for genetic reasons.
BuzzFeed also found he had used passwords to private accounts with references to the Kristallnacht and the Night of Long Knives – a purge of German Jews and homosexuals by the parliamentary organization that helped Adolf Hitler rise to power.
When contacted for comment by BuzzFeed, Yiannopoulos claimed he finds "humor in breaking taboos," adding that "everyone who knows me also knows I'm not a racist."
As for the fact that well-known white supremacists, including Richard Spencer, were doing the 'seig heil' gesture, Yiannopoulos feigned ignorance based on his supposedly poor eyesight. He said his "severe myopia" made it impossible for him to see the Hitler salutes a few feet away.
"In a dark bar, I did not see these hand gestures. If I'd have realized white nationalist losers were hailing me as their leader, I'd have immediately walked off stage."
He added: "I have been and am a steadfast supporter of Jews and Israel. I disavow white nationalism and I disavow racism and always have."
Yiannopoulos, 32, was born in Kent and worked as a technology blogger before reinventing himself in the US as a firebrand against feminism and political correctness.
It is the second time this year that an unearthed video has caused him embarrassment. He lost a $250,000 book deal and was forced to quit Breitbart in February when a clip emerged of him appearing to defend relationships between men and boys aged 13.
He retracted and apologized for the comments.
You can share this story on social media: