Breitbart's Milo Yiannopoulos triggers social media backlash after 'defending' pedophilia (VIDEO)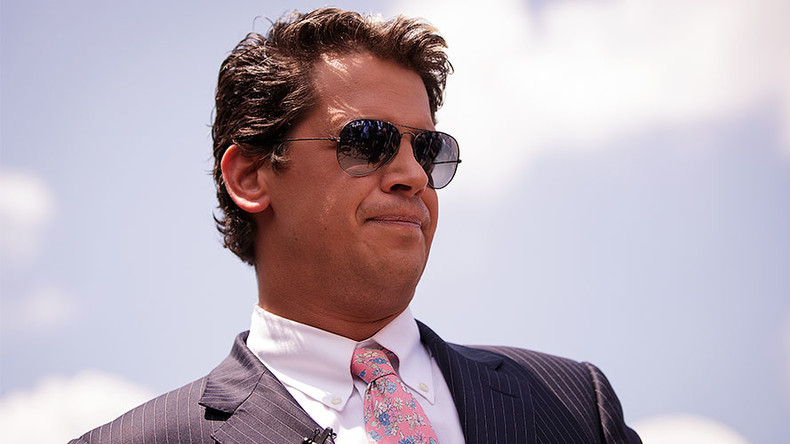 Far-right provocateur Milo Yiannopoulos has sparked outrage on social media after apparently "defending" pedophilia.
The British Breitbart news editor has been accused of "defending child abuse" after saying "we get hung up" on it.
"We get hung up on this sort of child abuse stuff to the point where we are heavily policing consensual adults," said Yiannopoulos.
"In the homosexual world, particularly, some of those relationships between younger boys and older men – the sort of 'coming of age' relationship – those relationships in which those older men help those young boys discover who they are and give them security and safety and provide them with love and a reliable, sort of rock, where they can't speak to their parents."
Yiannopoulos was speaking at the Conservative Political Action Conference (CPAC )in Maryland. He made the comments while discussing instances of abuse he allegedly suffered at the hands of a priest at school when he was in his teens.
Reacting to the comments, several conservatives have called for Yiannopoulos to be scrapped from the CPAC's list of speakers.
Once you advocate pederasty there is nothing to understand. The unrepentant individual in question is disqualified, as are his allies. https://t.co/W2u6IGnnGg

— Steve Deace (@SteveDeaceShow) 20 February 2017
Yiannopoulos has denied defending pedophilia, saying he is "completely disgusted" by child abuse and that those accusing him of being "soft" on the subject are "idiots" trying to "discredit" him from "establishment Republicans."
His "outing" of pedophiles through his journalism is a "peculiar strategy for a supposed pedophile apologist," he quipped.
Although he agreed the current UK age of sexual consent should remain at 16, Yiannopoulos said there are people who agree to sex at a younger age.
The Breitbart news editor, who is a rising star of the so-called 'alt-right' movement, has already been banned for life from Twitter after he described Ghostbuster film actress Leslie Jones as "barely literate" and a "dude."
He also claimed Lena Durham, star of TV show 'Girls,' represents the American "insane" liberals, and that the Democrats were the "party of Lena Durham."
"These people [liberals] are mental, hideous people, and the more that America sees of Lena Dunham, the fewer votes that the Democratic Party is going to get."
Berkeley University in California recently cancelled a speech by Yiannopoulos after thousands of students violently protested against him speaking on campus.
In response Yiannopoulos posted a statement on Facebook saying "the Left is absolutely terrified of free speech and will do literally anything to shut it down."
In a tweet Monday, Matt Schlapp, the American Conservative Union Chair, officially rescinded Yiannopoulos' invitation to speak at the Conservative Political Action Conference which is scheduled to take place February 22 - 25.
Schlapp highlighted the acknowledged Yiannopoulos' Facebook response to the allegations but dismissed them as "insufficient," calling on the controversial figure to "answer the tough questions" raised and "further address" the comments he made.
LISTEN MORE:
You can share this story on social media: