Peace on Earth? Church nativity lists mass shootings behind Baby Jesus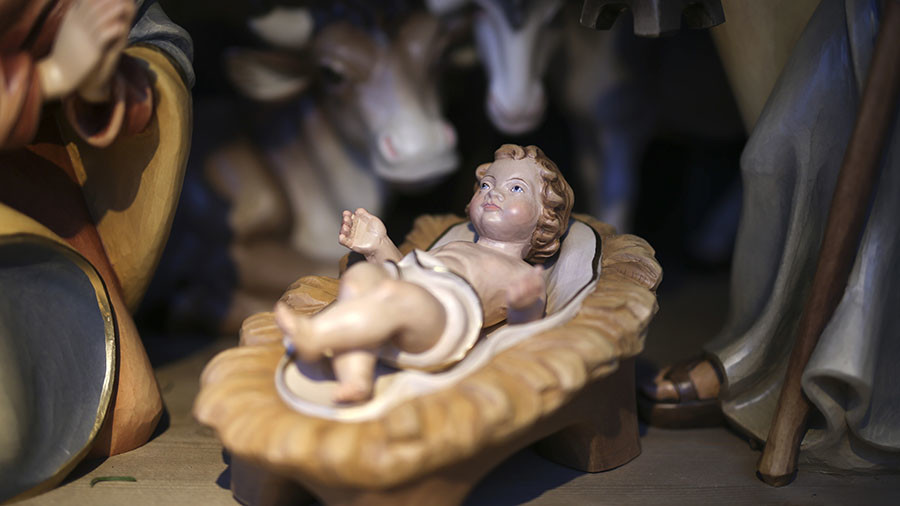 The nativity scene at a Massachusetts church is displaying more than Mary and Joseph this year. Hanging behind the manger are 14 signs representing US mass shootings, along with their death tolls.
The blue signs at St. Susanna Catholic Church feature some of the deadliest shootings in US history, documented in white paint. Among the shootings are the Las Vegas massacre, the Pulse nightclub shooting in Orlando, and the Texas church attack which left 26 people dead last month.
The priest at St. Susanna, Father Stephen Josoma, told Boston 25 News that the move is aimed at getting people talking and stopping gun violence. "There's cities, nursing homes, coffee shops, military installations, churches, theaters," he said, noting the locations of mass shootings that have taken place across the country.
Josoma said the idea came after he and his parishioners were "discussing the gun control issue and how it seems to be stagnated across the country." He went on to state that "this is not the picture of Christmas peace we want to have in people's minds for years to come. It can't be this forever, it just has to change."
The signs sit underneath a banner which reads: "If you only knew the things that make peace." The priest said he hopes they will encourage people to "look with an open mind and an open heart and continue the conversation."
The signs have proven controversial online, with one person taking to social media to say that "mass shooters don't deserve that kind of recognition. Church is for holy people. We should discard these monsters in active volcanos."
Another person acknowledged that the shootings were "tragedies," but questioned why they are more important than other tragic events.
While another said the numbers would be even higher if it weren't for "good guys with guns." The comment is a controversial argument often used by advocates of the Second Amendment, though the claim is largely disputed by those pushing tougher gun control laws.
Others took the opportunity to question whether St. Susanna also named "church child abusers." The remark references sexual misconduct allegations against Catholic clergy and other Church members.
The display comes as the US House of Representatives is expected to pass the Concealed Carry Reciprocity Act of 2017 this week, which would require states to recognize permits from other American authorities. Although the legislation is expected to easily pass the House, it will have a harder time in the Senate, where it would need Democratic votes to move ahead.
The House could pass the bill as early as Wednesday, the day of the fifth annual National Vigil for All Victims of Gun Violence in Washington DC. The day commemorates victims of the 2012 Sandy Hook Elementary School Shooting and honors the 500,000 Americans killed or injured by guns since then.