Michigan bill would put guns in schools, churches & daycare centers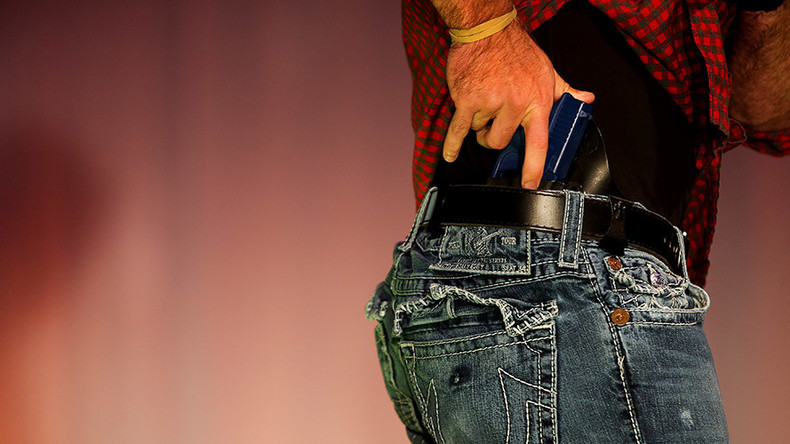 In the wake of the recent mass shootings in Texas and Nevada, state lawmakers in Michigan are about to vote on legislation that would allow gun owners to carry concealed weapons in gun-free zones.
On Tuesday, the Michigan Senate Committee on Government Operations voted 3-2, along party lines, to send Senate Bills 584-586 to the state Senate floor. The bills would allow permit holders who have completed at least eight hours of advanced firearm training in the past five years, or who are a certified firearm instructors to carry concealed weapons in gun-free zones.
Under state law, more than 600,000 concealed pistol license (CPL) holders in the state are prohibited from carrying weapons in nine gun-free zones, including schools grounds, daycare centers, sports arenas, large entertainment facilities, taverns, places of worship, hospitals, college dorms or classrooms, and casinos.
Senate Majority Leader Arlan Meekhof (R-West Olive), who sponsored the bills, said the zones are a "target-rich environment" for mass shooters. He said the legislation would give people the ability to protect themselves.
"The highest-trained gun owners, to be able to defend themselves and others, I think that's a good thing," Meekhof told the Booth Michigan.
The Michigan Coalition for Responsible Gun Owners (MCRGO) Education Chair Bob Rudowski testified at the hearing in support of the bills, arguing that a "well-qualified, well-trained individual" armed in a gun free zone could be "tantamount to setting up a scenario where we no longer set up sheep waiting for the wolves."
MCRGO said they would "work to expeditiously develop an advanced training program to meet the requirements in the bill."
However, supporters of the bill were outnumbered by those who oppose the bill at the hearing, with members of groups such as Moms Demand Action for Gun Sense in America, the American Federation of Teachers in Michigan, and the Michigan Association of School Boards crowding the rooms Tuesday.
Emily Durbin, Michigan chapter president of Moms Demand Action, said lawmakers should be proposing gun control legislation in the wake of the recent mass shootings.
"Two days after the latest shooting, we're here not having a conversation about keeping guns away from domestic abusers, increasing background checks or banning bump stocks," Durbin told the Detroit Free Press. "Instead, we're urgently discussing what the gun lobby wants and that's a desire to have more guns in more places, no questions asked."
Julie Roe, who represents the American Federation of Teachers in Michigan, also expressed concern that allowing guns in schools could lead to accidental shootings.
"By allowing weapons in the early childhood hood centers, K-12 schools, community colleges, universities dormitories and classrooms, the state would be increasing the likelihood of violence not deterring it," Roe said, according to WOOD.
The legislation was passed along party lines with three Republican senators on the committee voting in favor and two Democrats voting against.
"I think I just have a fundamental difference of opinion about the direction we should take when it comes to safety in our community," Senate Minority Leader Jim Ananich (D-Flint) told Booth Michigan.
The bills were approved by the committee after amendments were added to allow schools and private businesses to ban establish gun free-zones on their property.
"We're not going to pre-empt a private property owner's right to post for a weapon-free zone," Amber McCann, a spokeswoman for Meekhof, told the Detroit Free Press.
State legislators previously passed similar legislation four days after the Sandy Hook shooting in Newtown, Connecticut in 2012, but they were vetoed by Governor Rick Snyder (R), who opposed the legislation because it did not allow institutions to choose to remain gun-free.
However, Meekhof said that he thinks he can convince Snyder to change his mind this time.
"I have a good working relationship with the governor and I intend on convincing him that this is good public policy," Meekhof said, according to WOOD.
The bills could come up for a vote before a full Senate as soon as Tuesday, Meekhof told reporters after the hearing.
You can share this story on social media: