Humanoid robot Atlas nails perfect backflip (VIDEO)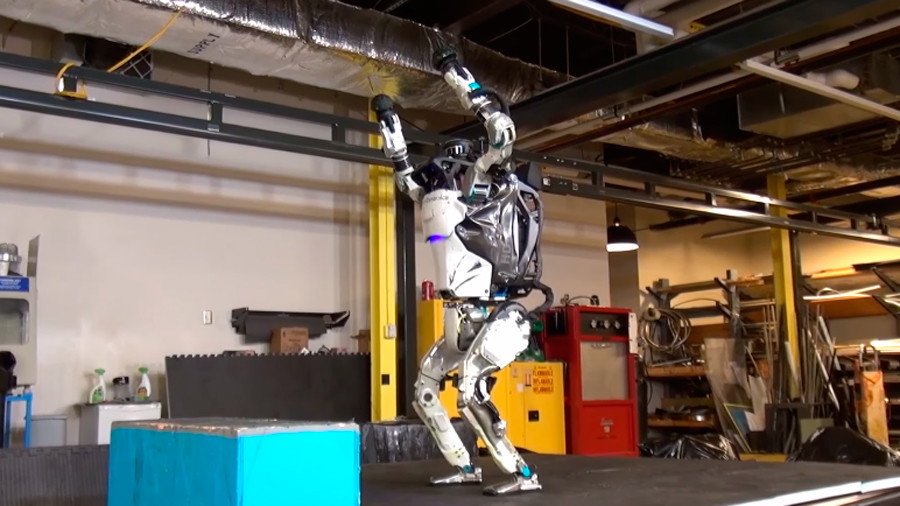 Olympic athletes are shaking in their boots: engineers have released a somewhat disconcerting video showing Boston Dynamics' Atlas robot effortlessly jumping over obstacles and doing a backflip while performing an impressive gymnastics routine.
The new video shows the Atlas robot, which is 6ft 9in tall (over 2 meters) and weighs 167lb (75kg), casually jumping between platforms, turning around and nailing a perfect backflip.
A real breakthrough comes when the humanoid is seen back-flipping off a block, and raising both arms to stick the landing. It's not clear, however, how many takes the agile robot needed to perfect the feat.
Blooper footage at the end shows the tireless metal athlete failing to complete the landing, tumbling over a large box after one of its attempts.
READ MORE: Next generation 'robot dog' moves just like real life pooch (VIDEO)
The robotics firm made waves earlier this week after unveiling the newest version of its dog-like SpotMini robot. The electric-powered 30kg robot is armed with a set of 3D-vision cameras to avoid getting into trouble.
You can share this story on social media: