Florida man shot dead in street, dragnet launched for potential serial killer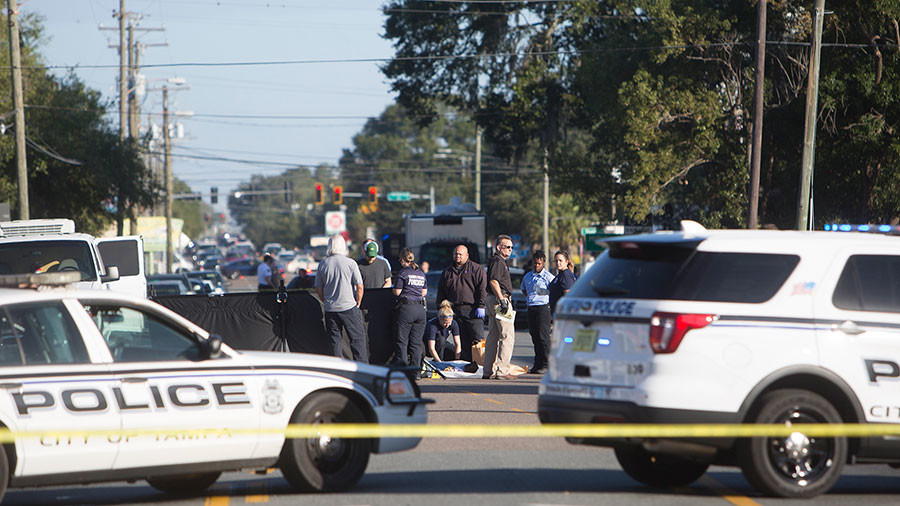 A man shot dead at close range as he was on his way to feed the homeless at a church in Tampa Bay is believed to be the fourth victim in a spate of murders that began early last month within days of each other.
Ronald Felton, 60, was fatally shot at approximately 5:00am Tuesday in the Seminole Heights neighborhood in Tampa Bay, Florida. Tampa Bay Police say that Felton was crossing the street when the shooter came up from behind and killed him, WFTS reported.
The police department's interim chief, Brian Dugan, said authorities think the suspect is still in the neighborhood, and that officers knocked on exactly 1,900 doors. Officers also decided to deploy K-9 units and helicopter searches following the shooting.
Police were already in the general area of the shooting on Tuesday morning, as they were on patrol when they received a call about the incident. They subsequently arrived on the scene within a minute, according to NBC News.
Before he was shot, Felton was on his way to volunteer at the New Seasons Apostolic Ministries in Seminole Heights, a church he has offered his time to for the past decade, his brother James Felton told NBC News.
Felton's brother added that when the victim was not at his construction job, he spent every Tuesday and Thursday morning at church.
Stan Lassiter, of the Seminole Heights Neighborhood Association, described the stringent procedures being used by police in the wake of the shooting.
"They locked down the neighborhood immediately, and so they hope they have created a giant box around where shooter was and believe he is somewhere in there. They are hoping they have him boxed in and are going door-to-door combing the houses," he said, NBC News reported.
Tampa Bay Mayor Bob Buckhorn gave a news conference Tuesday morning following Felton's death, and called upon others to help in the search before tragedy strikes again.
"We need folks to think about everything they heard last night and everything they saw this morning," he said. "We need to catch this killer before we have to notify one more family that their loved one is dead."
A spokesman for the Tampa Bay Police Department, Officer Steve Hegarty, said it is not known if Felton's death is connected to the three other murders that occurred in October in the same area, but a connection will stand unless authorities can rule the theory out, NBC News reported.
The first murder in the potential case of the Tampa Bay serial killer occurred on October 9 when Benjamin Mitchell, 22, was shot and killed in Seminole Heights while waiting for his bus to come.
The second victim that month, was Monica Hoffa, 32, who was found dead of a gunshot wound in a vacant lot on October 13.
And the third shooting involved the death of 20-year-old Anthony Naiboa, a recent high school graduate, who was killed while he was walking after taking the wrong bus home after work. Investigators have not said if there is evidence to tie the three shootings together, or whether they have forensics to prove the same weapon was used.
"My understanding from talking to one of the detectives is that they have 750 leads called in, and that's a mountain of information to go through one by one," Kenny Hoffa, Monica's father said, NBC News reported. "I'm just praying one of those leads ... pans out."
Tampa Bay police have released a video of a person of interest running during the night of the first murder in October. The person is not thought to be a suspect in the case, however, authorities believe the man in question may have been within range of the murder.
You can share this story on social media: