'You can have my jacket': Trump casts off tailored attire for military wear on US base (VIDEO)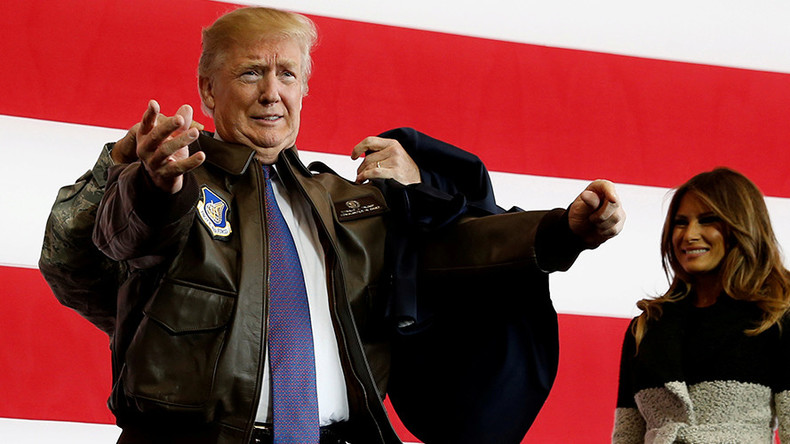 Visiting a US airbase in Japan, Donald Trump unexpectedly cast aside his usual suit jacket in favor of military garb – and offered his tailored garment to a military chief standing nearby.
While addressing a crowd of US military personnel, the US president, alongside his wife Melania, was presented with a green commander-in-chief leather flight jacket by Colonel Kenneth Moss, commander of the 374th airlift wing at Yokota. The airfield was taken over by the US military following Japan's surrender in WWII.
Trump donned the jacket before telling the crowd that he preferred the military gear to his own suit blazer. The president went on to warn that 'dictators' are no match for the US military, likely making reference to North Korea's leader, Kim Jong-un, who has threatened an American overseas territory, as well as Japanese airspace, through a number of ballistic missile launches this year.
READ MORE: Pyongyang fires missile through Japan's airspace into Pacific Ocean
The Republican president also hailed the military might of the US, warning enemy nations that "America's warriors" are fully equipped for conflict. "We dominate the sky, we dominate the sea, we dominate the land and space," Trump told the rally.
"Not merely because we have the best equipment – which we do – but because we have the best people. Each of you embodies the warrior creed: your devotion, prowess and expertise make you the most fearsome fighting force in the history of our world," he said.
"Together with our allies America's warriors are prepared to defend our nation using the full range of our unmatched capabilities. No one, no dictator, no regime and no nation should underestimate ever American resolve. Every once in awhile in the past they underestimated us and it was not pleasant for them."
"We will never yield, never waver and never falter in our defence of our freedom and our great American flag," Trump added.
The US president is currently undertaking a tour of Asia, which is set to be his longest foreign trip as president to date. Next on the schedule is a visit to South Korea, where he will meet president Moon Jae-in and discuss the denuclearization of the Democratic People's Republic of Korea.