Videos show Manhattan terrorist attack suspect, victims & aftermath (GRAPHIC)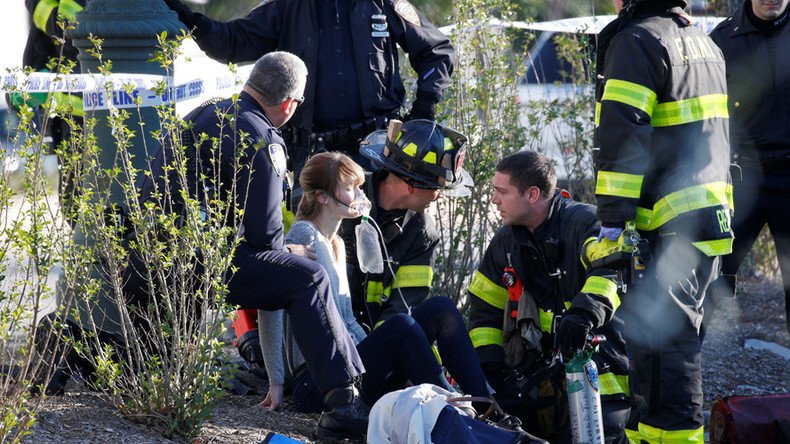 Graphic images captured at the scene of the terrorist truck attack in Manhattan that killed eight people and injured at least a dozen more have emerged. They show the suspect, victims and emergency responders in the wake of the deadly incident.
READ MORE: Manhattan terror suspect identified as 29yo Uzbek native Sayfullo Saipov – reports
The suspect drove a truck rented from Home Depot along a bike path in Manhattan's Tribeca neighborhood for at least 10 blocks on Tuesday. Police said the suspect deliberately hit a school bus, and witnesses say they heard the driver yell, "Allahu akbar," before leaving the vehicle.
READ MORE: 'Cowardly act of terror': Officials react to Manhattan truck attack that killed at least 8
Police eventually apprehended the suspect, who is believed to be a so-called 'lone wolf' attacker.
The suspect is seen fleeing on foot in a Snapchat video taken by Tawhid Kabir.
The suspect is also seen exiting a Home Depot truck, and fleeing on foot, as shown in another video taken by Kabir.
A video allegedly showing the immediate fallout from the incident is graphic.
More footage of the incident post-attack, shows authorities at the scene of the crime.
New York City Police cordoned off the area after the attack.
Multiple views of the crime scene were caught on video
READ MORE: 8 dead, at least 12 injured in Manhattan terrorist attack (LIVE VIDEO)
An alleged eyewitness described the event as the aftermath of the fatal attack unfolded in downtown Manhattan.
The suspect was lying down on the ground after police apprehended him, and is shown being taken into custody.
Police stated that they were not seeking another suspect in relation to the fatal incident.
You can share this story on social media: