'Cowardly act of terror': Officials react to Manhattan truck attack that killed at least 8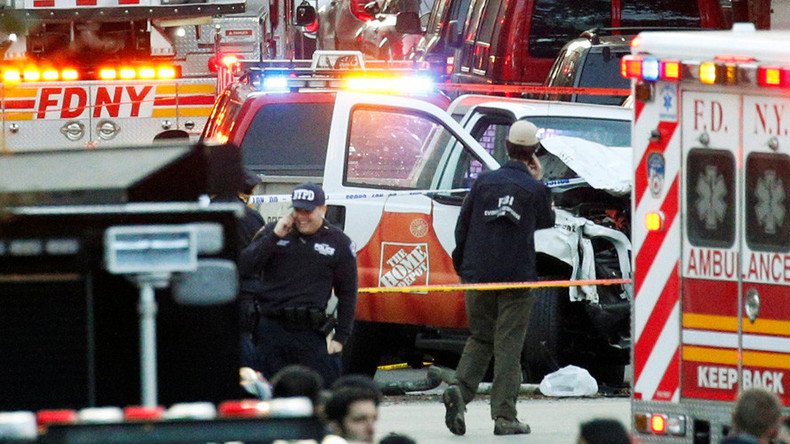 New York City Mayor Bill de Blasio has confirmed the truck attack that killed eight people was a terrorist attack, and Governor Andrew Cuomo told reporters there was no indication of a wider plot.
New York Police Commissioner James O'Neill called the incident "a tragedy of the widest magnitude."
De Blasio called the attack a "cowardly act of terror" and said the city was enduring a "painful day."
"We know that this action was intended to break our spirit, but we also know New Yorkers are strong," the mayor said. "Our spirit will never be moved by an act of violence, and act of terror."
READ MORE: Trump orders 'extreme vetting' escalation in response to Manhattan terrorist attack
Cuomo said that the suspect is a "lone wolf" and that there is "no evidence to suggest a wider plot or a wider scheme."
He added that there will be more police "everywhere," but said that it was not because there is any evidence there will be "any additional threat," but said that they were being deployed "out of vigilance and out of caution."
O'Neil said that the 29-year-old suspect exited the vehicle "brandishing two handguns" and was shot by a nearby police officer in the abdomen. He said that a paintball gun and a pellet gun were recovered at the scene.
When asked if the suspect said "Allahu Akbar" when he exited the vehicle, O'Neil confirmed that he "did make a comment."
De Blasio told residents to go about their business, and O'Neil said that the annual Halloween parade in New York City will continue as planned.
Police have confirmed that the incident began just after 3pm, when the suspect drove onto the bike path at West Street Houston Street. While driving south, the truck hit a school bus near Chambers Street and the man exited holding two firearms.
An officer that was assigned to the area shot the suspect in the stomach and police later recovered a paintball gun and pellet gun at the scene.
In NYC, looks like another attack by a very sick and deranged person. Law enforcement is following this closely. NOT IN THE U.S.A.!

— Donald J. Trump (@realDonaldTrump) October 31, 2017
President Donald Trump tweeted at about 5:30pm Eastern time, "In NYC, looks like another attack by a very sick and deranged person. Law enforcement is following this closely. NOT IN THE U.S.A.!"
An hour later, the president tweeted, "We must not allow [Islamic State or IS, formerly] ISIS to return, or enter, our country after defeating them in the Middle East and elsewhere. Enough!"
In an official statement from the White House, Trump praised law enforcement and emergency responders, saying, "These brave men and women embody the true American spirit of resilience and courage. I will continue to follow developments closely."
You can share this story on social media: