Two women & their dogs saved after months at sea by US Navy (VIDEO)
Published time: 27 Oct, 2017 04:24
Edited time: 27 Oct, 2017 09:12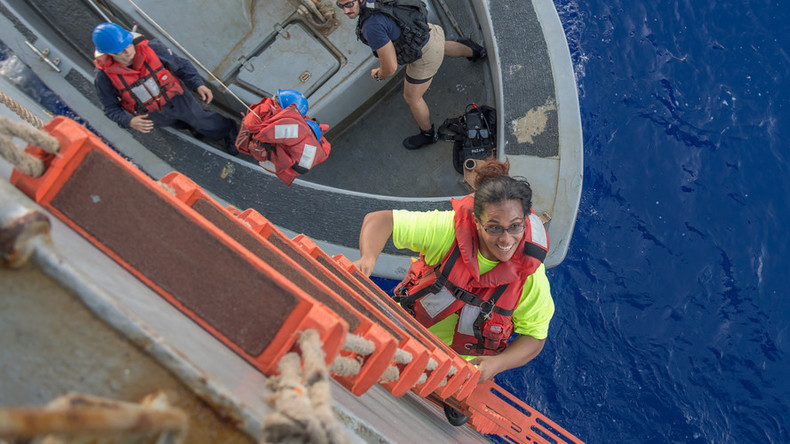 Two women mariners and their dogs were rescued at sea by the USS Ashland following an outing this past Spring. The two were brought to safety after weeks of sending out distress signals from their boat.
Jennifer Appel and Tasha Fuiaba were rescued by the US Navy vessel Wednesday morning. The women embarked on their journey from Hawaii to Tahiti in French Polynesia this past Spring. However, their sailboat strayed from its planned course on May 30, when the boat suffered an engine casualty, according to a US Navy press release.
Two months into their ordeal, the women began to send distress calls and continued the action each day since. The Navy claimed in a press release that the strayed boat was not close enough to the shore, or other ships, for their signals to be heard.
Appel said the two survived by having water purifiers and over a year's worth of food on board with them. The food primarily consisted of dry goods, such as oatmeal, pasta and rice.
Appel and Fuiaba were initially discovered 900 miles southeast of Japan by a Taiwanese fishing vessel. That vessel contacted the Coast Guard Sector in Guam, who went on to coordinate with the Taipei Rescue Coordination Center, the Japan Coordination Center and the Joint Coordination Center in Honolulu.
The USS Ashland was already operating in the area when they discovered the vessel with the two women aboard.
When the two were brought onboard the Navy vessel, they were given medical treatment and food. The pair will remain on the Navy ship until the USS Ashland's next port of call.
READ MORE: US, South Korea begin naval drills off Korean Peninsula
"I'm grateful for their service to our country. They saved our lives. The pride and smiles we had when we saw [U.S. Navy] on the horizon was pure relief," Appel said, according to the press release.
USS Ashland Commanding Officer Steven Wasson said, "The U.S. Navy is postured to assist any distressed mariner of any nationality during any type of situation."