US sends 2 more aircraft carriers to Pacific ahead of Trump's East Asia trip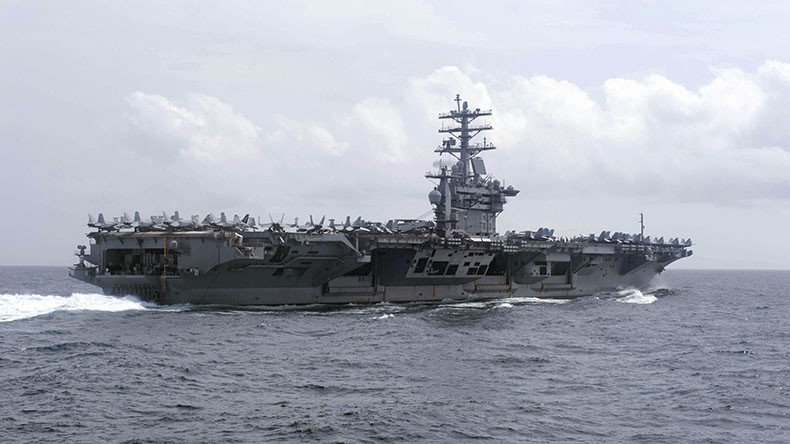 Two US aircraft carriers along with escort ships have joined the US Navy in the Pacific, ahead of President Donald Trump's visit to East Asia amid soaring tensions around the Korean Peninsula.
The announcements on the USS 'Theodore Roosevelt' and USS 'Nimitz' aircraft carriers, alongside their carrier groups, joining the US 7th Fleet came on Wednesday within hours of each other. The carriers will join the USS 'Ronald Reagan' strike group, which is already operating in the Western Pacific off the Korean Peninsula.
"USS 'Theodore Roosevelt' is prepared to carry out the full spectrum of possible missions, from humanitarian relief to combat operations," the vessel's commanding officer, Capt. Carlos Sardiello, said. "When a carrier leaves on deployment, we have to be ready for anything."
The announcements came just ahead of Trump's scheduled East Asia trip. The US president has been engaged in a fiery war of words with the North Korean leader Kim Jong-un. While Trump vowed to "totally destroy" North Korea and punish "little Rocket Man" Kim for his missile and nuclear tests, North Korea has repeatedly threatened to reduce the US to "ashes and darkness."
The new deployments came as the US and its regional allies, including Japan and South Korea, were conducting joint large-scale naval drills, aimed at strengthening ballistic missile defenses.
Russia and China have long advocated a "double-freeze" plan, which would see North Korea suspend its nuclear and ballistic missile programs in exchange for halting joint US-South Korea military drills. The plan, however, was firmly rejected by the US.
The two additional carrier groups will significantly beef up the capabilities of the US 7th Fleet, which appears to have returned to full-blown naval activities, following the unprecedented "operational pause" announced late in August and the replacement of the fleet's commander.
The 7th Fleet has been plagued by a chain of incidents throughout 2017, including several collisions with merchant vessels. The latest incident occurred in August, when the USS 'John S. McCain' guided missile destroyer collided with an oil tanker near Singapore, east of the Strait of Malacca. Ten US sailors were killed and several others injured in the collision.
In June, seven US sailors were killed in a collision between the destroyer USS 'Fitzgerald' and a container ship some 56 nautical miles southwest of Yokosuka, Japan. Another notable incident occurred in January, with the guided-missile cruiser USS 'Antietam' running aground in Tokyo Bay. No one was injured in the incident, but the ship badly damaged its propellers and spilled some 1,100 gallons of hydraulic oil into the sea.
The spate of incidents prompted investigations, and several commanding and senior officers of the ships involved were ultimately punished.
You can share this story on social media: