George HW Bush 'patted women's rears', his office says amid sexual assault allegations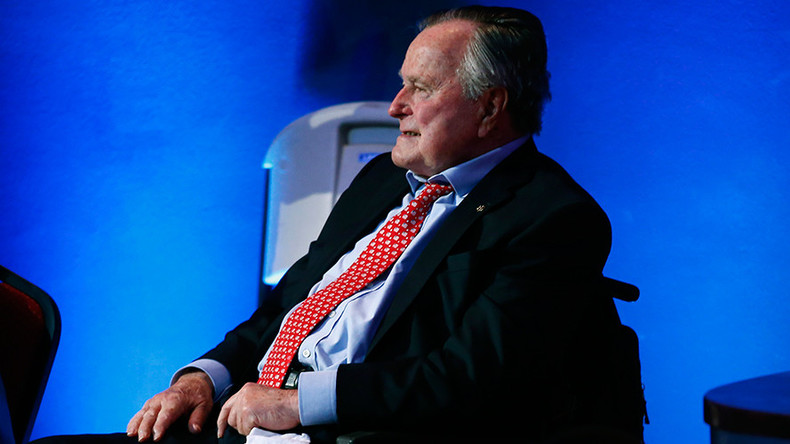 Former President George H.W. Bush has apologized for an "attempt at humor" following accusations of sexual assault from actresses Heather Lind and Jordana Grolnick.
Bush, 93, responded Wednesday evening to the claim from Lind and apologized through a statement from his office. The response notes that the ex-president's actions were carried out with the most innocent of intentions, to make a joke.
"At age 93, President Bush has been confined to a wheelchair for roughly five years, so his arm falls on the lower waist of people with whom he takes pictures," the statement read. "To try to put people at ease, the president routinely tells the same joke — and on occasion, he has patted women's rears in what he intended to be a good-natured manner."
"Some have seen it as innocent; others clearly view it as inappropriate," Bush's office's statement read. "To anyone he has offended, President Bush apologizes most sincerely."
The statement from Bush does not specifically say what the joke he made was, and Lind did not comment on it either.
The website Deadspin claims that rumors surrounding the Lind incident have been circulating for a year, as an unnamed tipster had previously told the publication that the 41st US President fondled the actress, while telling her his favorite magician was "David Cop-a-Feel."
Lind had previously accused the aging ex-president of touching her behind on a now-deleted Instagram post during a photoshoot while promoting the AMC show, "Turn: Washington's Spies," four years ago the Daily Mail reported. Former First Lady Barbara Bush was standing alongside the two at the time.
The actress posted her allegation after seeing a photo of a gathering Saturday of all five living former US presidents.
"I was disturbed today by a photo I saw of President Barack Obama shaking hands with George H. W. Bush in a gathering of ex-presidents organising aid to states and territories damaged by recent hurricanes," Lind said in the post. "I found it disturbing because I recognize the respect ex-presidents are given for having served. And I feel pride and reverence toward many of the men in the photo."
Lind claims that Bush didn't shake her hand during the photo-op, but instead touched her from behind, and told her a dirty joke. In an earlier comment to Fox News, a Bush representative said the former commander in chief might have erred in his "attempt at humor."
New York actress Jordana Grolnick has also accused Bush of similar inappropriate behavior.
"I got sent the Heather Lind story by many people this morning," Grolnick said Monday, according to Deadspin. "And I'm afraid that mine is entirely similar."
In August 2016, Grolnick was working at a Maine production of the Hunchback of Notre Dame when the former president came to the performance. Bush came backstage after the performance and took a photo with Grolnick and the rest of the show's cast.
Grolnick now says that other actors told her prior to taking the picture, that Bush had a reputation for fondling other people during photo ops. Grolnick, however, did not take it seriously.
Grolnick thought to herself: "He's in a wheelchair, what harm could he do?"
But then Bush allegedly followed through with the actions that he allegedly had a reputation for, as Grolnick described the incident.
READ MORE: #WomenBoycottTwitter: Social network accused of hypocrisy over Rose McGowan suspension
"We all circled around him and Barbara for a photo, and I was right next to him," Grolnick said. "He reached his right hand around to my behind, and as we smiled for the photo he asked the group, 'Do you want to know who my favorite magician is? As I felt his hand dig into my flesh, he said, 'David Cop-a-Feel!'"
The accusations against Bush come after Hollywood producer Harvey Weinstein was accused of sexual assault and harassment. Other claims against actors, studio executives, producers and directors have also surfaced recently, but when it comes to the former president, some on Twitter are expressing more sympathy in his case.
Clara Jeffery, the editor-in-chief for Mother Jones speculated that the former president may have symptoms related to dementia, which could explain his errant behavior.
1/ Here's the thing about this. Nobody but his family and doctors know but sexually inappropriate behavior quite common to those w/ dementia https://t.co/cFcOiyfdIu

— Clara Jeffery (@ClaraJeffery) October 26, 2017
NBC News chief foreign affairs correspondent and anchor, Andrea Mitchell, said the ex-president should not be ashamed of the recent allegations against him.
Mrs Bush was at his side. He is in a wheelchair with Parkinson's syndrome. Really? Someone should be ashamed and it isn't '41. https://t.co/CGhy8yNX5i

— Andrea Mitchell (@mitchellreports) October 26, 2017