US restarts visa processing for 6 countries after 'dangerously flawed' travel ban ruling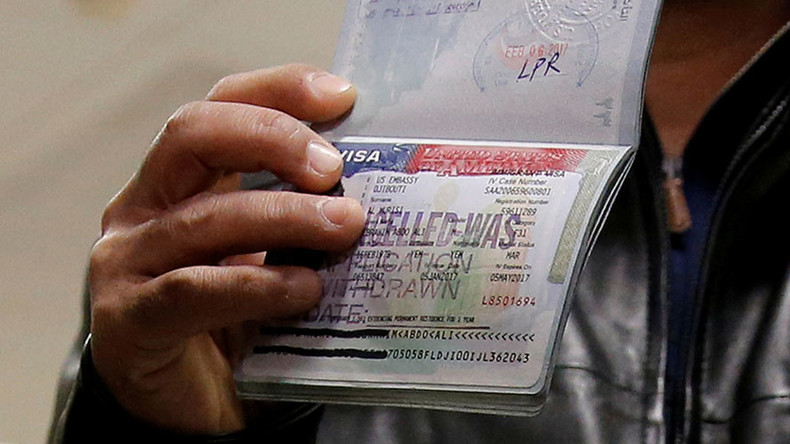 The White House has described Tuesday's ruling by a Hawaiian judge, blocking Donald Trump's controversial travel ban, as "dangerously flawed," adding that it "undercuts the president's efforts to keep the American people safe."
In a statement, the president's office reacted to a ruling earlier Tuesday by US District Judge Derrick Watson of Hawaii, who granted a nationwide injunction against Trump's third travel ban, ruling that the order "likely" violates US law.
In accordance with the court order, the State Department is instructing US embassies to process visa applications from citizens of Chad, Iran, Libya, Somalia, Syria and Yemen, according to the Associated Press. The State Department, however, will follow the presidential guidelines in processing visa applications from North Koreans and Venezuelans, AP reported.
The US Department of Justice said that it will appeal the judge's ruling.
"Today's ruling is incorrect, fails to properly respect the separation of powers, and has the potential to cause serious negative consequences for our national security," the DOJ said in a statement.
However, Hawaii Attorney General Doug Chin called the judge's ruling "another victory for the rule of law" and said that he stands "ready to defend it."
The White House statement added that the ruling hindered President Trump's ability to "enforce minimum security standards for entry into the United States."
"The entry restrictions in the proclamation apply to countries based on their inability or unwillingness to share critical information necessary to safely vet applications," the statement continued, adding, "as well as a threat assessment related to terrorism, instability, and other grave national security concerns."
The White House said it was "confident" that the courts would uphold Trump's executive order.
In his ruling, Judge Watson said that the third version of the ban "lacks sufficient findings that the entry of more than 150 million nationals from six specified countries would be 'detrimental to the interests of the United States.'"
Judge Watson previously blocked Trump's second version of the travel ban, which prohibited citizens from six Muslim-majority countries from entering the United states, ruling that it was unconstitutional because it discriminated against people based on their religion.
In September, Trump signed an executive order that expanded the travel ban to include North Korea and Venezuela, which are not Muslim-majority countries. One effect of these two countries being added could be to weaken the plaintiff's argument that the ban is based on religious discrimination.
However, arguments have been shifting to concerns of discrimination over nationality.
In his Tuesday ruling, Watson said that the plaintiffs are "likely to prevail" on their claim that the third executive order violates the Immigration and Nationality Act (INA) prohibition on nationality-based discrimination, which states: "No person shall receive any preference or priority or be discriminated against in the issuance of an immigrant visa because of his race, sex, nationality, place of birth, or place of residence."