Hawaii judge again blocks Trump's travel ban
Published time: 17 Oct, 2017 18:57
Edited time: 22 May, 2018 12:11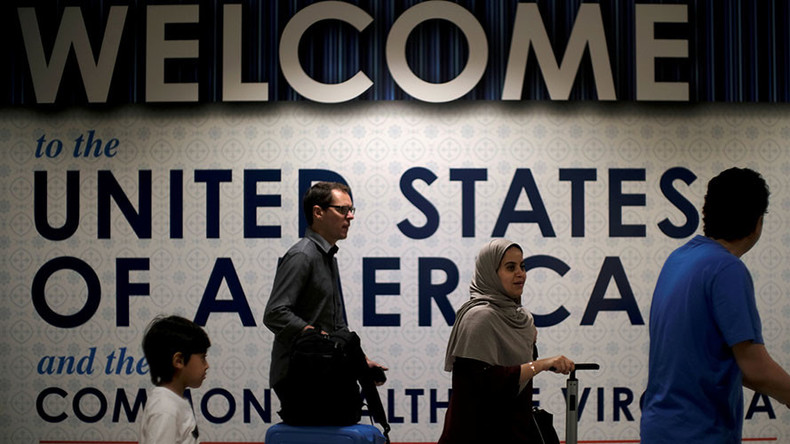 A federal judge in Hawaii has granted a temporary restraining order against President Donald Trump's latest travel ban, saying it was violating immigration law.
Trump's executive order, issued on September 24, indefinitely restricted travel to the US for citizens from eight countries: Somalia, Syria, Libya, Iran, Yemen, North Korea, Venezuela and Chad.
The order "likely" violated a US law which prohibits nationality-based discrimination with respect to the issuance of immigrant visas, said US District Judge Derrick Watson of Hawaii.
The same judge also challenged Trump's first two travel bans, which targeted six Muslim-majority countries. Watson previously ruled that the orders discriminated against Muslims in light of Trump's campaign promise of "a total and complete shutdown of Muslims entering the United States."
However, Trump's September order includes two countries – North Korea and Venezuela – that are not majority Muslim, weakening the plaintiffs' argument that the ban is discriminatory.
Watson nonetheless cited discrimination in the new order as well. The judge also challenged the "national security" reasoning behind Trump's travel restrictions, pointing to its "internal incoherencies" which "markedly undermine" the rationale.
"For example, the President finds that Iraq fails the "baseline" security assessment but then omits Iraq from the ban for policy reasons," Watson wrote.
"Similarly, after failing to meet the information-sharing baseline, Venezuela also received a pass, other than with respect to certain Venezuelan government officials. On the other end, despite meeting the information-sharing baseline that Venezuela failed, Somalia and its nationals were rewarded by being included in the ban," the judge continued.
"National security is not a 'talismanic incantation' that, once invoked, can support any and all exercise of executive power," Watson's restraining order read.
Trump's new order was scheduled to take effect tomorrow.
The Supreme Court had temporarily reinstated the main parts of Trump's previous executive orders after they were challenged by a number of lower courts. However, it carved out an exemption for foreign nationals from the countries on the list who have "bona fide" relationships in the United States.
After the new travel ban was issued, the nation's highest court canceled oral arguments pertaining to the previous executive orders. The justices directed the parties involved to update their arguments in light of the new order.
The Trump administration is expected to challenge the Hawaii judge's latest block, on which the Supreme Court will have the final say.